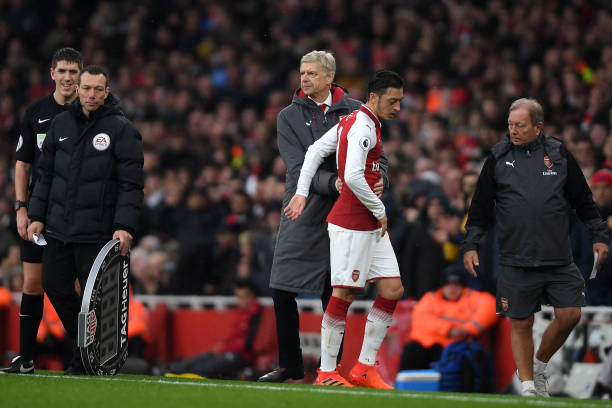 Former Arsenal manager Arsene Wenger said that Mesut Ozil did not seem himself while playing for Germany at the 2018 World Cup.
Wenger feels that Ozil 'suffered' in the aftermath of taking a photograph with Turkish president, Recep Tayyip Erdogan.
Ozil and Ilkay Gundogan both posed for a photo with Erdogan during a meal organised by the Turkish state in London.
Gundogan and Ozil both handed Erdogan shirts from their respective clubs.
Wenger, who stepped down as Arsenal manager in May, told beIN Sports that he could tell from Ozil's play that the controversy had affected him.
"I know Ozil well, he's a fantastic, exceptional football player, but him and Gundogan suffered from what happened before the World Cup," Wenger said. "Ozil is a guy who needs support, he doesn't need controversy. And when I watched him play, I could feel that there were situations in the game where he could have moved forward, progressed, played more vertical.
"He played securely. I was thinking, 'Come on, that's not the real Ozil I know, the guy who can kill.' He did play all right, but I think he didn't play with complete freedom. He played a little bit with the handbrake in this World Cup."
Defending champions Germany crashed out of the World Cup in the group stage for the first time since 1938.
See More: Why Jack Wilshere Should Have Joined Fenerbahce After Ending 17 Year Spell At Arsenal
Ozil and Gundogan are both Germany international players of Turkish origin.
Wenger was responsible for signing Ozil from Real Madrid in 2014.
The 29-year-old will join up with his new manager Unai Emery after his post-World Cup holiday.