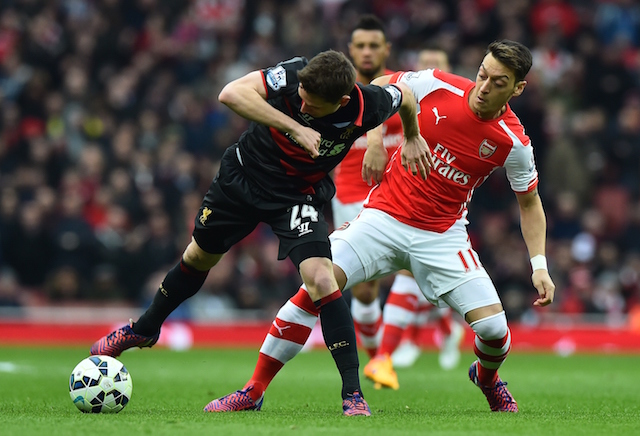 Battle of the Titans –  Arsenal v Man Utd: Premier League Preview
Mesut Ozil and his Arsenal teammates face a huge challenge to finish in the top four of the Premier League this season, as do Man Utd. The two giants of English football are playing catch-up on Liverpool and Man City and are both desperate for points.
They meet on May 7 in a huge game: a draw is no good for either side, and if one of them loses they will be all but out of the race to make the top four and qualify for next season's Champions League. But if one were to win it, they would be right back in the mix.
When these two met at Old Trafford earlier in the season, Arsenal were uncharacteristically stubborn and resilient. They battled to a 1-1 draw despite Man Utd having more of the ball and the lion's share of the chances. But how many times can you say that of Jose Mourinho's men this season? They have become the draw kings of the Premiership, frequently taking just one point when three have looked to be well within their grasp.
"Of course it is two points dropped," said Mourinho after that game. "We were the best team by far. They had no chances to win. They could not be Arsenal the way they normally play football. We were phenomenal defensively. The way we pressed and the way we controlled their counter attacks. The team played very well. This team at the moment is the unluckiest team in the Premier League. That is the reality."
Since then things have not got all that much better for Man Utd and they are still outside the top four. They have lost the joint fewest amount of games all season – just three – but have drawn 12, a league high. With Ozil discovering his passing range and Alexis Sanchez banging in the goals, Arsenal enjoyed a bit of a resurgence after the nightmare of losing 3-0 to Crystal Palace. They battled to a famous extra-time victory over Man City in the FA Cup semi-finals and have now won back-to-back league games for the first time since January. They have not been winning pretty, but by being resilient and really grinding it out, much like a Mourinho side. Their 2-1 win over Middlesbrough was scrappy, and they owed their 1-0 win over Leicester to a huge slice of luck in the form of Robert Huth's own goal, but they will take it and this is a good time of season for a team's luck to change.
We will know more by May 7 about how their respective bids for the top four are looking, but chances are they will both still be in the hunt, so it will be a massive game, and one you might make some money from. Before you bet on the game, check out BetDSI and review the best soccer odds, and you will see that Arsenal are the slight favourites, trading at 2.48 compared to 3.30 for Man Utd. That means there is value to be had backing either side. The draw, meanwhile, is 2.47 and while it would probably suit neither team, it is the most likely outcome due to the large number of games Man Utd have drawn this season. Mourinho has added grit to the team and made them resilient, so Arsenal will struggle to break them down, while Man Utd will struggle for goals after injury to star striker Zlatan Ibrahimovic, so something like 1-1 seems likely. Opting for that as a correct score bet looks interesting, as does a simple under 2.5 goals bet. The way Arsenal are playing right now is not like the Arsenal we are used to, so it all points to a low scoring game between two edgy teams.