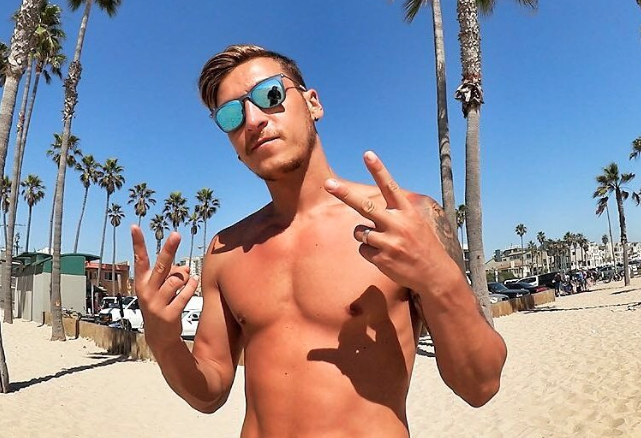 'Better than all our 3 CAMs put together' – Man United Fans Want Arsenal Star to be Reunited with Jose Mourinho
Manchester United and Barcelona have been closely linked with a move for Arsenal star Mesut Ozil.
The 29-year-old has six months remaining on his contract and could end up leaving the North London based outfit for free if he does not sign a new deal.
The Daily Mail, Ozil would 'favour' reunion with Jose Mourinho at Man United over joining La Liga giants Barcelona.
Per the source, the playmaker still has a strong relationship with United boss Jose Mourinho. The pair won the La Liga title during their spell at Real Madrid.
We took a look at how fans reacted to the latest reports regarding Ozil potentially moving to United.
United fans being snobbish about Ozil lol. Pogba and Martial our only players who can chat to him. Better than all our 3 CAMs put together.

— 2AssistzVsCity (@CopyOfOne) December 13, 2017
Fans in general appear more on board with Ozil joining than the last time he was closely linked with the Red Devils.
I want ozil at united ?

— JayR (@xJayRahman) December 14, 2017
Even Ozil?
No Pogba, no party. Huge lack of creativity in this side. Even Ozil looks a decent option now.

— James (@writtenoff_mufc) December 13, 2017
Exactly!
"Even Ozil looks a decent option" his vision and creativity is as good as anyone in the league… https://t.co/uVeaPxnKRo

— CR (@CR689908) December 13, 2017
Are United lacking creativity? perhaps Ozil could be the man to solve that problem. The last time the playmaker of Turkish origin was at the same team as Jose Mourinho it all worked out rather well.
Anyone else think united lack a creative CAM so badly. Without Martial and Mata there's no one trying things up top. Lingard has many attributes but quality on the ball and vision are not amongst them. Dare I say it. Get Ozil in??‍♂️ #mufc

— Y0u7on (@Lord_You07) December 13, 2017
We just need an attacking mid who if Pogba isn't there, the trash players can just give him the ball to create something. We're seriously lacking that type when Pogba isn't around. Basically, go get Ozil in Jan

— Scotty Tridge ?? (@ScottTridge) December 13, 2017
Ozil or Griezmann? who would you rather have.
Ozil or Griezmann @UnitedStandMUFC Ozil for me we need creativity Griezmann is more of a finisher and without Pogba he'll be feeding of scraps like Lukaku

— Brandon A Didier (@UnitedBoss101) December 14, 2017
We aren't sure how Arsenal fans are going to take it if he does end up leaving North London for Manchester.
@hopeso7 alright mate, are you gunna be ok if ozil goes united or should I expect the worst?

— Alexander Randell (@weeeemanrandy) December 14, 2017