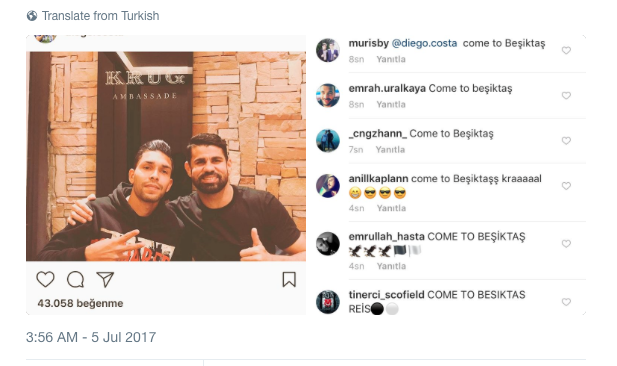 'Come to Besiktas' – Fans flood Diego Costa with messages on social media urging Chelsea striker to join Turkish giants
Chelsea are keen to part ways with Diego Costa but finding a suitable club for him has proven problematic.
Turkish daily Haberturk claim that Besiktas could offer the Blues a way out.
Per the source, the Black Eagles are keen on taking Costa on for one-season and covering his wages.
Besiktas would struggle to offer Chelsea the kind of transfer fee being demanded but they are also keen on a temporary move.
Supporters of the Black Eagles have been trying to do their part in convincing Costa to make the move.
Besiktas fans have been relentlessly flooding Costa's latest posts on Twitter and Instagram with messaging urging him to join the club.
Below is just a small sample of the thousands of messages currently in circulation.
We took a look at the response from Besiktas fans on social media to the transfer rumour.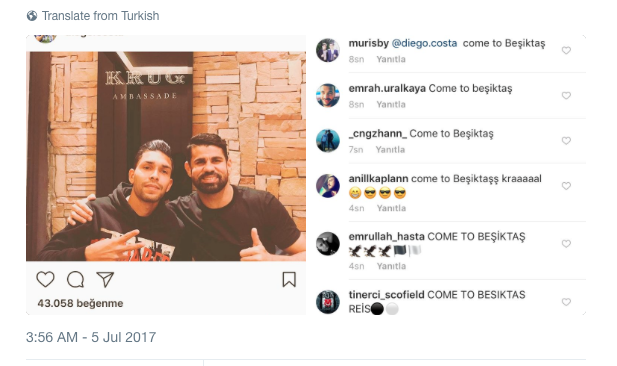 If you leave #ChelseaFamily please come my another family #BESIKTAS !! Diegoooo Diegoooo @diegocosta pic.twitter.com/eAIjIZIX1P

— Mehmet (@mehmeteonal) July 6, 2017
@ besiktas

announce diego costa ✏️? ?

— əvrən (@evrermanchester) July 5, 2017
@diegocosta it's just the right time to consider coming to Beşiktaş
Find the warmest hospitality and joy.,
?????

— Erdal Yildirim (@Susameson) July 5, 2017
Man like man Pepe, come to Diego Costa Come to Besiktas writer? in @diegocosta

— Gündem Beşiktaş?⭐? (@bjkhabercisijk) July 5, 2017
Come to Besiktas ? @diegocosta you won't be disappointed ???? pic.twitter.com/cBLUzbKMeo

— FOREVER 1903 ? (@forever1903bjk1) July 5, 2017
COME TO @Besiktas KING @diegocosta

— bAris dAmci 1903 (@BDamci) July 5, 2017
Not go atletico, Come to BESIKTAS 6 months wait.

— Skullness (@SkulEss3) July 5, 2017
Do you wanna be World Cup 2018 Star? Just come to Besiktas, if you want… @diegocosta

— Powerful Beşiktaş (@RT_BJK) July 5, 2017
Now that is what you call optimism.
Beşiktaş is very close for the Champions League FinalWe need only striker.Please sign @diegocosta or @Mario_Gomez @Besiktas @BesiktasEnglish

— Gürsoy (@gursoyayan) July 5, 2017
Pepe signing for Besiktas came as a bit of a shock, if Costa were to join there would be parties in the street.
If Diego Costa comes to Besiktas, I'm quitting Life.

— Draxler (@DraxlerQQ) July 5, 2017
Besiktas getting Pepe and Diego Costa in one transfer window ffsssss

— Tom (@BiggarsInParis) July 5, 2017
Could Besiktas really pull it off? is it really possible? do the Istanbul giants have the funds? they would be able to guarantee Costa first team and Champions League football but would that be enough?
Now there are rumours regardind Diego Costa's move to Besiktas! Would be incredible but is it possible?

— Demetrio Albertini (@d_albertini5) July 5, 2017