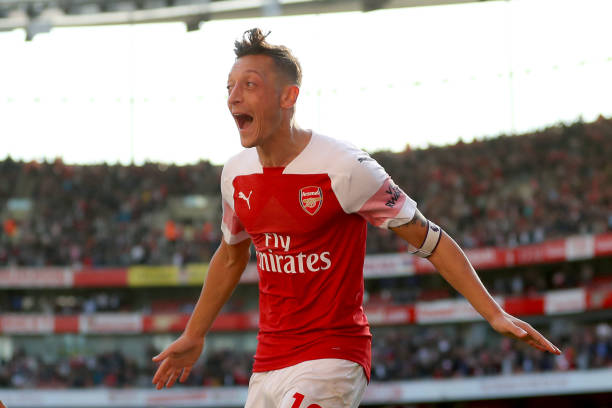 Arsenal extended their unbeaten run to 16 games in all competitions – 12 wins – after being held to a 1-1 draw against Wolves at the Emirates.
Despite keeping their unbeaten record intact there were sections of the Arsenal fanbase and pundits who thought the team could have done better.
The Gunners did not put on a particularly memorable performance and were not at their best.
Mesut Ozil got heavily criticized afterward as is often the case when the North London based outfit don't do well.
We took a look at how Arsenal fans reacted to the playmaker of Turkish origin against Wolves on social media.
See More: Arsenal boss Unai Emery reveals exactly why he took off Mesut Ozil against Wolves
Ozil did not exactly have his best game and came under fire for his display from sections of the fanbase.
Ozil been awful today. Rightly taken off IMO.

— LTArsenal™ (@ltarsenal) November 11, 2018
Ozil should be ripping it up in games like today's. Disappointing and it's far too often.

— Camden Town (@4949_Undefeated) November 11, 2018
Another international break, another two weeks vacation for Lacazette, Auba and Ozil. I love this game.

— Lacazettes (@Lacazettes) November 11, 2018
Ozil pretty much has a free role, if he can't show for the ball then something would be seriously wrong. Fact is we need more from him, we are paying him a fortune, so surely we are within our rights to expect more? When teams sit back we rightfully look for him to open them up

— Kev (@KevArsenal1990) November 12, 2018
Ozil was not good today, and besides for his Leicester game he has been bad for most of this season, yet we can't talk about that because we'll get bashed by his fans. But the simple truth is he's not nearly consistent enough to be out starting No.10

— bAkAtsInE (@_lukmanB) November 11, 2018
Slightly over the top?
Completely agree. Zero urgency. He was awful. Imo, he should never wear the captain's armband. He doesn't work hard enough. His compete level was unacceptable today.

— TJ Boucher (@TheJman77) November 11, 2018
Not everyone thought Ozil was awful.
Ozil actually performed well! Xhaka and Saed let him down constantly so he kept having to drop deeper and deeper but he kept going and kept collecting the ball

— Jamie McGowan (@jim_conner) November 11, 2018
My reading, whilst being at the game, exactly! It was a poor team performance (esp Mustafi and Sead) BUT at least Ozil was showing for the ball..

— Titi #MerciArsène (@lynne_2009) November 11, 2018
Was he really that bad?
Mesut Özil was the only Arsenal player to create a chance in the first-half vs. Wolves.

Second-half specialists. pic.twitter.com/8469IeY0qI

— Squawka Football (@Squawka) November 11, 2018
Hah!
"Ozil had a disasterclass vs Wolves" https://t.co/zNYwqWZXQj

— Mesut Ozil (@WeAreOzil) November 11, 2018