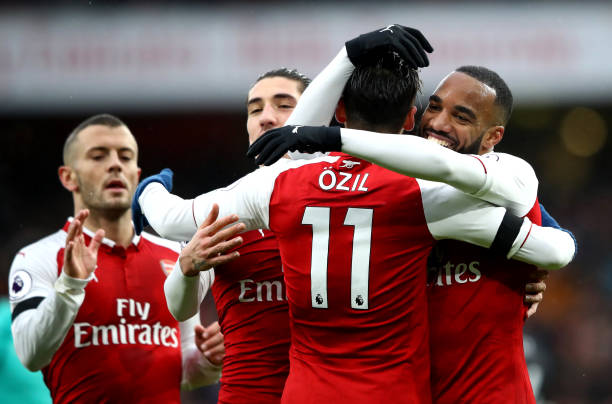 The end of the season means new kits and while some clubs have already revealed what they will be wearing next term, Arsenal haven't, well not officially anyway.
There have been images circulating of next season's unconfirmed Arsenal kits and they have divided opinion, despite nobody actually knowing whether they will actually be used.
The leaked kits feature Mesut Ozil, Pierre-Emerick Aubameyang and Henrikh Mkhitaryan wearing a two-toned red shirt with white sleeves and shoulders, and faint red stripes over the bicep area.
Arsenal will not only have new kits next season, they will also have a new manager as Arsene Wenger ends his 22-year reign in charge.
But for now we are focused more on the new kit.
See More: Who Is Arsenal Target Caglar Soyuncu – Everything You Need To Know About The £35m Rated Defender Taking The Bundesliga By Storm
This is how Arsenal fans reacted on social media.
This is apparently next seasons Arsenal kit. What do you make of it?
Leaked image of Mesut Özil, Pierre-Emerick Aubameyang & Henrikh Mkhitaryan modeling Arsenal's home kit for the 2018/19 season. #afc pic.twitter.com/gBoYmzwQjm

— afcstuff (@afcstuff) May 18, 2018
Not everyone was impressed.
Worst in the history

— LMAÖ? (@indiangooner2) May 18, 2018
Dreadful. I hope the away kit will look good at least.

— The Polish Gooner (@PrzybyszMatt11) May 18, 2018
Disgusting kit, won't be purchasing. Hope the manager is better than the look of that kit hahaa #uglykit #arsenal

— Jonesey (@ajonesey1985) May 19, 2018
— Perry Francis (@Francis24Perry) May 18, 2018
Why can't they give us proper shoulder and collar designs for once

— m (@920401) May 18, 2018
Wouldn't even go out the door wearing that look how dreadful that looks??‍♂️

— #arsenal? (@Naaawty) May 18, 2018
that kit is vile and I cannot wait for us to leave Puma, Hoping for Adidas with a nice retro away kit

— Daniel Smith (@Daniel_Smith87) May 18, 2018
Looks like they got a 6 Yeah old to colour the red bit in that couldn't be arsed finishing it off.

— banter club (@EnlightenedMyth) May 18, 2018
Clever!
Nice to see ozil turn up

— Wayne TTC (@TtcWayne) May 18, 2018
Some likes
I'm probably in the minority here, but I really like it!

— Adam Keys (@_AdamKeys) May 18, 2018
I might have been wrong about the Kit earlier. It looks decent. I take back my words.

— Boge (@boge_tweets) May 18, 2018
Looks better than i thought it would. If red will be this vibrant then it's actually quite nice

— Aurimas Auga (@SamiruAAguA) May 18, 2018
Isn't as bad as I thought after seeing the jersey alone ..looking good on players to be true

— kartheek ane nenu (@Bareddykartheek) May 18, 2018