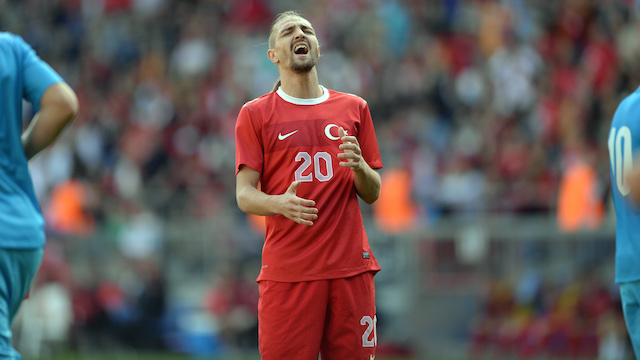 Turkey got their Euro 2016 campaign off to an awful start but despite losing their first two Group D games chances of qualification are well and truly still alive.
The tournament expanded to a 24-team format this summer and UEFA brought in a new rule that states the four best 3rd placed sides in the groups will book a place in the next round.
Turkey currently has zero points having lost 1-0 to Croatia and 3-0 to Spain but a win against the Czech Republic could still be enough to take the Crescent-Stars through.
Below are the current best third placed teams in the tournament:
So what are the permutations? 
Currently the only best third placed team out of reach for Turkey is Slovakia who are on four points following the goalless draw against England yesterday.
Albania were ecstatic with their first win at a major tournament but their -2 goal average could come back to haunt them.
Turkey would move above Albania in the rankings with a victory against Czech Republic by a two goal margin.
Despite the Crescent Stars and Albania both being on -2 goal average in the event of a 2-0 win over the Czech's, Turkey would qualify due to having scored more goals.
But moving above one side is not enough to get Turkey into the next stage they must move above another third place side.
If Germany beat Northern Ireland today it would leave them on three points which also helps Turkey. The more goals the German score against Norther Ireland the better as far as Fatih Terim's boys are concerned as it will lower their goal average which currently stands at +1.
In Group E should Italy not lose against Ireland and Belgium not suffer a defeat at the hands of Sweden it would leave Ireland and Sweden on two points – the perfect scenario for Turkey.
Meanwhile in Group F should Hungary beat Portugal it would leave Cristiano Ronaldo's side on just two points. In the other group game as Austria are on one point and Iceland on two any result would be fine for Turkey as long as Hungary win. However, a win for both Portugal and either Iceland or Austria in the other game would be no good as far as Turkey is concerned.
And there you have the permutations. Turkey could know by game time if they can move into a best 3rd team place as the Group C games – involving Germany and Northern Ireland – will be played before the Group D matches. Otherwise the Crescent-Stars will have to hope results in Group E and F go their way. Of course none will matter if Turkey are unable to beat the Czech Republic today.
See More
Group D: Turkey Euro 2016 team guide