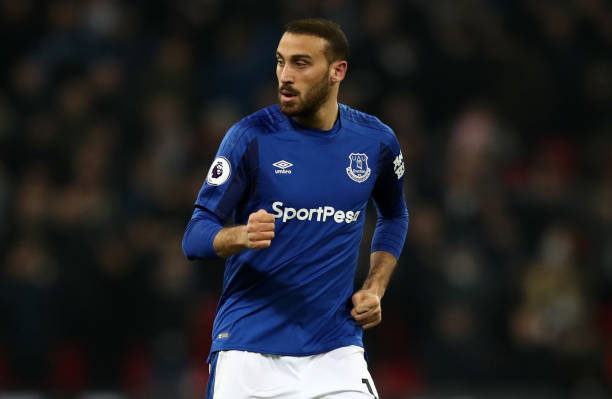 Everton striker Cenk Tosun was signed for a £27 million fee from Besiktas over the winter trasnfer window.
For that price tag you would assume Tosun was brought in as a star player. A forward you would expect to play regularly.
Well that has not been the case. The Turkey international has been dropped for the past three games in favour of Oumar Niasse.
Toffees boss Sam Allardyce revealed that the 26-year-old is not quiet match fit yet and will need to get used to the pace of the Premier League before getting back in the team.
Tosun has responded to being left out of the starting line-up and has stated when he expects to return to the team.
"I am in a completely different league," Tosun said.
"I'm doing everything to settle in and bond with my new teammates. 
"I did not play in the last game but it does not bother me. 
"I am just focused on my game and training hard.
"I am going to be a lot fitter in a fortnights time and then return to the starting 11."
Tosun did not receive any playing time in the 3-1 victory over Crystal Palace last weekend.
Niasse scored and provided an assist so we will probably see the 27-year-old again when the Toffees take on Watford on Saturday 24 February.
Tosun has started two games since joining the Merseyside based outfit, against Tottenham and West Brom.
The striker had 14 goals and three assists for Besiktas before joining Everton including four goals in the Champions League.
Allardyce hopes that Tosun will reach the necessary fitness levels during their Dubai training camp this week.
"It will be important for him to train really, really hard particularly when you are walking out and it is chucking it down with rain," Allardyce was quoted as saying by the Liverpool Echo.
"It is not that he is not used to it but it is freezing cold. When you are on the grass in short sleeves and shorts and a pair of boots players don't want to stop training and don't want to stop playing football, in fact we have to stop them and say you have done enough lads.
"They say: 'Lets have another 10-15 minutes.' That is what you get when you get out in the right climate."