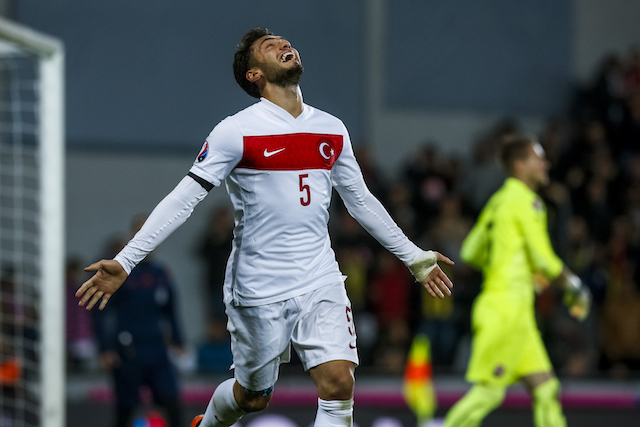 Bayer Leverkusen free-kick maestro Hakan Calhanoglu has caught the attention of Manchester United, Chelsea, Everton, Tottenham and Arsenal according to the Daily Mail.
Calhanoglu is open to the idea of playing in the Premier League and he recently revealed that he would not be able to turn down United. Speaking to Lig Tv he said: "Barcelona and Manchester United are huge clubs it would be different to turn them down but I have not said anything about any transfers or anything of the sort."
But should United sign him? here is everything you need to know.
Liverpool midfielder Emre Can, Manchester City's Ilkay Gundogan, Arsenal playmaker Mesut Ozil and West Ham winger Gokhan Tore represent a growing number of players born in Germany, of Turkish origin, in the Premier League.
Hakan Calhanoglu (pronounced Chal-han-or-luh) would not need a work permit and Bundesliga stars have developed a reputation as having the skill set and physical ability to make the transition to the Premier League.
Calhanoglu was snapped up by Karlsruhe as a youth and was promoted to the senior side towards the end of the 2011-12 season.
Hamburg ended up signing the Mannheim-born playmaker for €2.5m in 2012 and it wasn't long before he started making a name for himself, scoring several outrageous free-kicks. Calhanoglu scored seven goals directly from free-kicks the previous season. It was his spectacular 50-yard effort in the 3-0 victory over Borussia Dortmund in 2014, however, that got people noticing. The goal went down in social media folklore and is still doing the round on Twitter and Facebook today. Bayer Leverkusen ended up signing him up for €14.5m in 2014 and he went on to score 11 direct free-kick goals in the Bundesliga alone.
Calhanoglu is as dangerous taking a direct free-kick as he is with his set-piece delivery. United have scored just five times from set=pieces this season which is not exactly prolific. In fact the Red Devils are joint 14th in the Premier League alongside Watford and Southampton in terms of goals from set-pieces. The 23-year-old would give United another outlet for goals and the likes of Ibrahimovic would welcome his delivery.
At 22 he has become a key figure in the Turkey side but his international career almost ended prematurely.
His team-mate Gokhan Tore came close to tearing the Turkey team apart when a love story almost ended in a Shakespearian tragedy. In May 2013, after the Crescent Stars loss against the Netherlands in their final 2014 World Cup qualifier, Bayer defender Omer Toprak, a friend and Calhanoglu were at the national team hotel before their flight back to Germany the following morning.
What happened next is quite unbelievable. Tore claimed that Toprak's friend made advances towards his – then – girlfriend. Accompanied by a sidekick whose identity remains unknown, Tore gained access to Toprak and Calhanoglu's hotel room after the pair had returned there. "Then the real story began," Calhanoglu explained in an interview with the German TV channel ZDF.