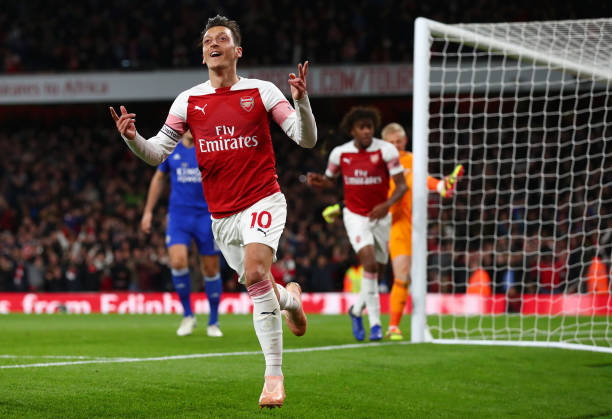 Arsenal were held to a 1-1 draw against Liverpool at the Emirates Stadium on Saturday in the Premier League.
Mesut Ozil started his third successive league game as Arsenal captain after returning to the side following being rested mid-week against Blackpool in the Carabao Cup.
The playmaker of Turkish origin has been accused of not performing at his best in big games this season and this was a huge match.
Liverpool headed into the game level with league leaders Manchester City on 26 points.
Arsenal meanwhile, were just four points behind the leaders.
We took a look at how Arsenal fans reacted to Ozil's display on social media.
See More: Galatasaray 2-2 Fenerbahce: Enthralling Derby Marred By Death Of Young Fan Koray Sener
Ozil did not score or provide an assist but he did receive praise from sections of the Arsenal fanbase for the work he put in that sometimes goes unnoticed.
You don't realise just how well Ozil played until you watch each of his touches from the match. He is the fulcrum on which we pivot from recycling possession to turbo jet attack. Few players in history have his positional sense and spatial awareness. Top, top player and talent

— Nate Smith (@nws13) November 4, 2018
Day – 10 great game from the boys yesterday. Proving the haters wrong @MesutOzil1088 pic.twitter.com/VEzItBwTFc

— Guy (Yes that is my name) (@Mesut_OzilSZN) November 4, 2018
Ozil's positioning has been brilliant. Always getting as far as Liverpool's 3 as possible and picking up the ball in promising areas.

— LTArsenal™ (@ltarsenal) November 3, 2018
And they say he disappears in big games

— Conneck (@conneck13) November 3, 2018
Ozil has had a very Suarezesque game. Smart movement off the ball and those little cheeky touches here and there, opening up play.

Been very slick.

— El Mago (@FGrindRole) November 3, 2018
Mesut Ozil's movements and passes are to be admired tho.#ARSLIV

— #BrotherHopeful (@Steel_Dhlamini) November 3, 2018
Arsenal fans were not standing for the same old lazy accusations of Ozil going missing in big games.
I can only assume that the person who wrote this went missing – #Ozil was anything but anonymous!

— Anna Goldberg (@AnnaTheWise1) November 4, 2018
What? All the attacks on the left came from his linkup play. Just don't push the agenda

— le_jeff (@le_jeff_reine) November 3, 2018
Created the most chances on the pitch

— • (@hamzaa_123) November 3, 2018
He was far from a disaster class today, he put the fullbacks through multiple Times and Lacazette through one time in he first half. Second half he faded.

— abdi24 (@abdz24) November 3, 2018
Didn't go missing. Was keeping Arsenal ticking along. Kept pulling Fabinho all over the place. Fabinho didn't know whether to drop deep or press because of Ozil's movement. You don't know shit.

— Özil10 (@NonchalantOzil) November 4, 2018
There is always one.
Özil went missing in another big game unfortunately. Three starts vs the top six this season, three disasterclasses. Emery's tactics make it a bit difficult for the #10 but that's not an excuse for a £350,000 a week player.

— Un Prophète (@mediocentroEN) November 3, 2018