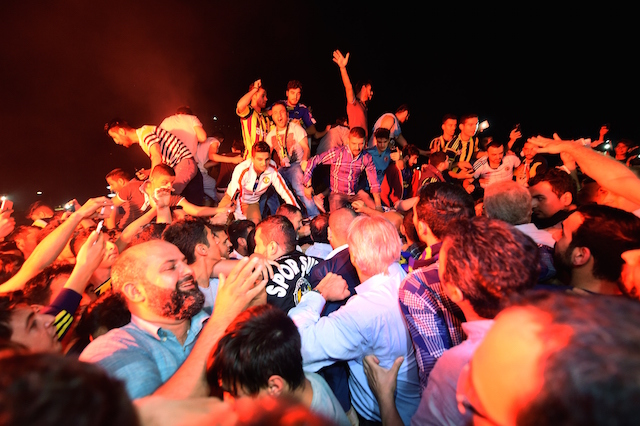 British Countryside to Fenerbahçe Fandom – by Patrick Cox: You can follow Pat on Twitter
It was a mid-December Sunday in 2011. The weather in Istanbul that day was crisp, but fortunately not quite as cold as London where I had flown from the day before. Outside of a bar on a street in Kadıköy, a neighbourhood in the Asian side of Istanbul, I was having a casual beer with a group of friends I hadn't seen since May, when suddenly the sound of conversation and laughter was quickly broken by something from my past.
"Amigo Patrick Cox! Amigo Patrick Cox! Amigo Patrick, Amigo Patrick, Amigo Patrick Cox!"
As I was escorted and lifted up on to a metre-high plant box that interestingly held only soil, my mind was torn between being terrified as to what was going to happen and excited that I was, to some extent, about to do what I had missed doing for so long. When I was in position and looked out over the sea of yellow and blue in front of me, there was silence. There was nothing I could do except begin:
Climbing back down, I felt a huge smile appear on my face. I knew that I was back where I belonged among my fellow Fenerbahçe friends and hours away from the excitement and passion of the Şükrü Saraçoğlu Stadium for our big game against rivals Trabzonspor. The non-stop chanting and support of the tribunes, something I had longed to be a part of since May of that year, was as incredible as I remembered, and the 1-0 victory over the Black Sea team meant I slept with that same huge smile on my face that night.
When watching videos of that day or from other times people have filmed me singing a song or two, I am often asked by Turks and even British friends back home as to how this all happened, something I ask myself too since at times it doesn't quite seem real. I had been (and still am) a Tottenham supporter in the UK, but living in the countryside not all that close to north London meant that I may be able to count the number of times I have been to White Hart Lane on one hand. How then did I end up as a Fenerbahçe fanatic?
A gap year trip in Turkey led me to study Turkish at university, a course that included a year abroad at a university in Istanbul. Knowing the football culture of Turkey, it was all but certain that I would support one of the teams out in the city, and a friendship with a British-Turk led me to support his team, Fenerbahçe. I had been leaning towards this team due in part my favourite colour being blue, and the suggestion of this friend confirmed in my head and heart that Fenerbahçe was the team for me.
The season had already started when I arrived to Istanbul with my classmate in August 2010, and after settling into life in this new city, I began to look for opportunities to be able to watch games, either live or on TV. While one of my Turkish housemates also supported the team, he was too busy with work to be able to watch matches and as it had been with Tottenham I somewhat assumed that going to games would be tough. Perhaps if I were lucky, I thought, I may be able to find someone to go to 4 or 5 games with. How wrong I was.
The turning point came at my Istanbul university's freshers fair, held in the quad of the main campus. As I walked passed stalls for the Ottoman Music Society and Caving Society, I noticed a rather busy table for the Fenerbahçe University Students Society, immediately knowing that I had to join if I was to really get into the footballing scene that year. At the time, my spoken Turkish was not great, so I deliberately passed the group to do another loop around the square as I planned in my head as to what to say.
Despite forgetting all my Turkish as soon as I got to the table, I left my details with the organization members, and a few days later I got a call asking if I wanted a ticket to the upcoming Fenerbahçe – Gençlerbirliği match. How could I refuse? When match day arrived, the group from our university met up with chapters from other schools in Istanbul in Kadıköy where my language skills were put to the test, and eventually we headed to the ground to watch the match. The atmosphere of the fans from the kick-off to the final whistle was a hundred times better than what I had expected, and I knew that I wanted more.
As one of the few, if only, non-Turkish members of this nationwide student Fenerbahçe supporters group, word apparently quickly spread about this ginger-haired guy from Britain who was a fan of their club. And when videos of me singing a few chants to a few coach-loads of members at a service station en route back to Istanbul from an event in Ankara appeared on Facebook and Twitter, this curiosity seemed to explode. As the season went on, so did the friendly requests for me to perform, and my improved Turkish language skills grew alongside my repertoire of chants.
Despite being nine points off the leaders Trabzonspor at the winter break, Fenerbahçe clawed themselves back to first place, and a nervy 4-3 victory away to Sivasspor on the final day of the season meant Fenerbahçe were crowned champions. That evening was to be the zenith of my year, as I was among tens of thousands of fans who took to the streets of the Asian side of Istanbul to celebrate the title, with the party continuing into the early hours and the next few days.
After almost two years back in the UK to finish university and start work, I moved back to Istanbul to both be back in the city I loved and to again be a part of the passion for my team, something I had missed sorely when in rainy England. I managed to get hold of a season ticket for the 2013-14, which fortunately again culminated in another championship for Fenerbahçe, and although individual performances may have be fewer and farther between, the feeling of again being among 30-40 thousand fans cheering on our team was indescribable.
I have managed to somewhat blend into the crowds and spend match day with friends having a pre-game Turkish breakfast and a drink or two rather than joining in the singing and Galatasaray bashing, but I am still reminded of my 15 minutes of fame now and again when asked if I'm the foreign Fenerbahçe supporter in the video…