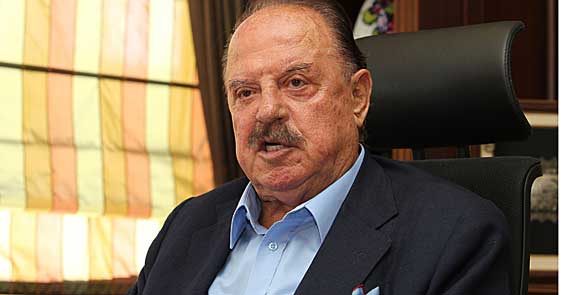 Legendary Gençlerbirliği president, İlhan Cavcav, died in the capital Ankara on 22 Jan 2017.
Cavcav had been suffering from hypertension and was being treated due to an apoplexy in Ankara's Güven Hospital.
The Turkish Football Federation (TFF) named the 2017-18 season in Cavcav's honour.
The official name of the current campaign is the 2017-18 Ilhan Cavcav Super Lig season.
Just a year after passing away, Gençlerbirliği have been relegated for the first time in 29 years, ironically in the season named after their legendary president.
Gençlerbirliği join Karabukspor as the second side to be relegated. The final spot will be decided in the final week.
See More: Turkish League Previews 33: Can Galatasaray Hold Out In The Title Race?
Cavcav was born in Ankara in 1935, and established a flour-producing company in Ankara in 1967, going on to become one of the capital's biggest industrialists.
He served as Gençlerbirliği president from 1978, working with a total of 42 different managers in his 39-year tenure.
Cavcav guided the Ankara based outfit to the top-flight in 1989 after being relegated in 1987-88.
The Black-Reds remained in the Super Lig until the current campaign.
Cavcav famously banned his players from having facial hair and planned to fine Gençlerbirliği players L25,000 (£7,150) who contravened his beard ban.
He later had a change of heart and left it up to his players to decide whether they would grow a goatee, a chin curtain or a hulihee.
Gençlerbirliği were also renowned for developing players during his time in charge of the club.
The Ankara side signed and developed Geremi who went on to play for Read Madrid as well the likes of Serkan Balcı, Gökhan Gönül, Ergün Penbe who went on to play at some of Turkey's biggest clubs and achieve national team success.