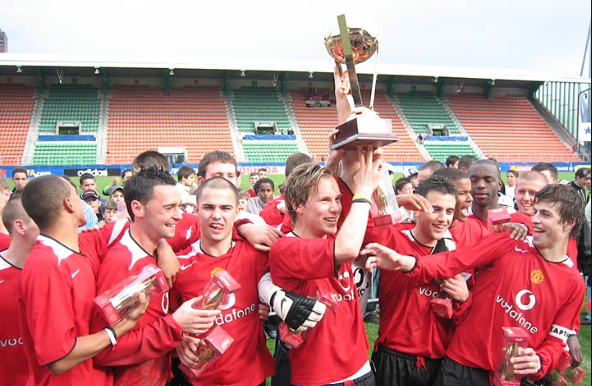 German midfielder reveals why he picked Man United over Arsenal, Chelsea & Barcelona
Markus Neumayr's transfer to Kasimpasa went relatively unnoticed over the summer.
Remarkably Neumayr was once tipped for greatness.
The 31-year-old rose through the ranks of Manchester United as a youth.
The German midfielder recalls how he turned down offers from Chelsea, Arsenal and Barcelona to join the Red Devils.
"Manchester United scouts were keeping tabs on my at the time," Neumayr said in an interview with Fanatik.
"I was 16 and had received offers from Barcelona, Chelsea and Arsenal but Manchester United were a special club. 
"You have to remember this is a team Beckham, Ryan Giggs, Van Nistelrooy and Scholes were playing for. 
"It was a dream team and it was a dream come true to be part of this team." 
Neumayr revealed how surprised he was to receive a direct phone call from Sir Alex Ferguson.
The midfielder described how he almost missed the call because he did not recognise the number.
"When I was going to school in Germany I got a phone call one morning," he added.
"It was from a number I didn't recognise so I ignored the call. 
"I got a voicemail, unbelievably it was Alex Ferguson, I couldn't believe I just missed his phone call. 
"I played the voice message back to my friends over 100 times just to make sure it was him." 
Neumayr signed a three-year deal in 2003, spending two-years in the academy before a season with the first-team.
The midfielder never actually played a game for the first team but was called into the squad on 29 March 2006 against West Ham United.
Kasimpasa's latest signing took a dip after United and he ended up at Duisburg before moves to Waregem, Essen, Burghausen, Thun, Bellinzona, Vaduz and Luzern.
Neumayr does not however, regret joining United over the likes of Arsenal and Chelsea.
"I never regret joining United over the other clubs that made offers, it was a great experience and I made great friends like Gerard Pique who is the godfather of my child," he said.