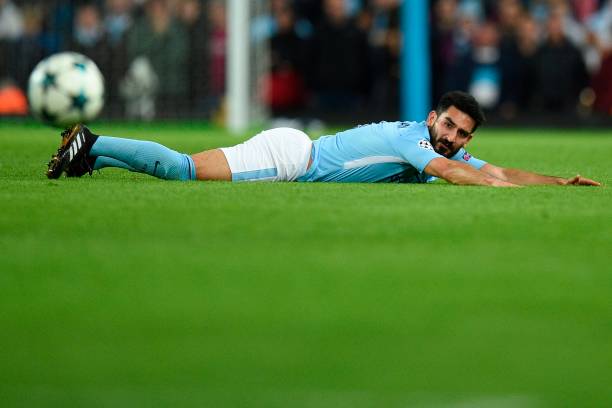 'Gündogan substitution genius from Guardiola' – Man City fans react to star midfielder swap against Man United
Manchester City beat Manchester United 2-1 at Old Trafford in the Premier League on Sunday.
City extended their lead at the top of the table to 11 points and became the first side to win 14 successive Premier League games in a single season.
The Citizens win was also the Red Devils first defeat at Old Trafford since September 2016.
United boss Jose Mourinho has now lost nine games in all competitions against Pep Guardiola, more than against any other manager.
Midfielder of Turkish origin Ilkay Gundogan did not start but did come on as a second half substitute for Vincent Kompany.
We took a look at how Man City fans reacted to the Gundogan swap on social media.
Praise for Gundi!
Gundogan made the second have looked like a football game rather than a wrestling game well don GUNDO

— Silk (@SILKYILKAY8) 10 December 2017
Lukaku has been beaten in the air consecutively by Ilkay Gundogan and Fernandinho

Someone pass me the bottle I wanna kill my liver

— NO MÁS CHENKO (@zaidthoven) 10 December 2017
More praise for Gundogan and the genius of Pep Guardiola.
Gündogan substitution genius from Guardiola, already had superiority in midfield now they have a numerical advantage too. "No striker has to constantly fill the space in the box, only arrive there as the play does." Textbook Pep.

— Navid Rahman (@Navidr9) 10 December 2017
Not everyone was team Gundogan!
What a poor 2nd half by City. Gundogan's sub to blame. City have to buy CMs in Jan. Can't trust even 1 of Yaya-Gundogan-Delph as backup.

— reverse_ball (@reverse_ball) 10 December 2017
City's depth is crazy! to be able to bring on Gundogan as a substitute just shows how adept the squad is. Most other Premier League sides would have him as a guaranteed starter.
Almost impossible with City's options from the bench: Aguero, Bernardo Silva, Gundogan, Danilo, Yaya Toure not even on the bench. That's some serious squad depth! https://t.co/bClRwzROCJ

— Series Abíọdún࿐ (@EngrSeries) 10 December 2017
Well to be fair he is actually a singer but still it was rather funny.
'Q: Why was Ilkay Gundogan brought on?' A: 'I've no idea'.
Utter lunacy of having Noel Gallagher as a football pundit on your biggest game of the season exposed right here. ? pic.twitter.com/XSvCLpD5MR

— Adrian Rutherford (@arutherfordNI) 10 December 2017
Banter!
Gundogan is alive? I thought he was dead…they had shirts and everything

— Adam Doležálek (@Aidam95) 10 December 2017
*Gundogan warming up*

Noel Gallagher "at least it's not Mangala"

?

— Jonjo's Tips (@Jonjo_Tips) 10 December 2017
That backfired! City went onto win the game in the second half!
Kompany out, Fernandinho as centre back, and underperforming Gundogan as DM. Now Manchester United have a big chance of winning this.

— Rafael Hernández (@RafaelH117) 10 December 2017
Well Gundogan sure was pleased with the result. Is it too early for these kind of celebrations? Can anybody still catch City in the title race.
oooooooooooh yeaaaaaaaaaaaaaaaaaahhhhhhhhhhhhhhhhhhhhhhhhhhhhhhhhhhhhhhhhhhh-yeaaah-yeahh-yeah! #utdvcity pic.twitter.com/lpNqMxCPTw

— Ilkay Gündogan (@IlkayGuendogan) 10 December 2017