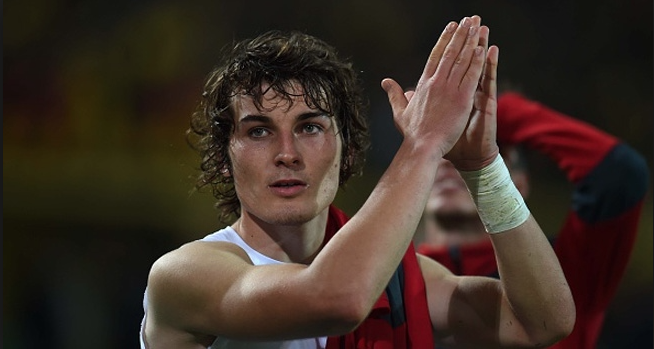 Arsenal have been closely linked with a move for Freiburg defender Caglar Soyuncu.
The 21-year-old has established himself as a key player for the Bundesliga outfit over the past few seasons since moving from the Turkish second tier.
Like Roma starlet Cengiz Under, Soyuncu is a product of the prestigious Altinordu academy.
We took a look at how Arsenal fans reacted to the latest reports that Soyuncu could be Emirates bound for a fee in the region of £35 million.
See More: 3 reasons £30m Arsenal Target Caglar Soyuncu Would Be A Success At The Emirates
Arsenal fans appear pretty pleased. Soyuncu has come a long way in a short time, going from the second tier in Turkey to one of the hottest prospects in the Bundesliga and a first-choice defender for the Turkish national side.
Have you watched any Caglar Soyuncu? Just watched a highlights video and he looks just amazing. Really

— Liam //*// (@GoodOldLiam) May 15, 2018
Bernd Leno, Caglar Soyuncu and now Jean Michel Seri too? Arsenal about to do some madness ??

— akim (@fromisnice) May 15, 2018
I think appointing Arteta is purely based on the idea that Mislintat & Sanllehi will be more involved not only in recruitment but also how the club shapes up in the future considering how we are already in for Seri & Caglar Soyuncu etc. Nervous but Super exciting times!

— Özilinho (@WoolWitchGooner) May 15, 2018
If #afc do pay £35m for Caglar Soyuncu, it is a risk (all transfers are to some extent), but there is so much to like about him. Tenacious, strong, decent on the ball. Greatest weakness is that he sometimes gets too pumped up and makes silly mistakes, but good coach will fix that

— Kevin Hatchard ?⚽️ (@kevinhatchard) May 15, 2018
The fee does seem a little high to me as well but this is the Premier League so you can't blame Freiburg for wanting to get top whack.
That amount has to be a joke, though? I think he has much potential as well, but half of that fee paid this summer would actually surprise me.

— Daniel Busch (@dan_bu) May 15, 2018
Arsenal: "Don't you think £35m is way too much for Caglar Soyuncu? What do you think of a fee between £10m and £15m?"

Freiburgs front office: "Shut up we want £35m"

Arsenal: "No, we're offering you…"

Freiburg: pic.twitter.com/rACHnrAcUQ

— Jonas (@Seekersheva) May 15, 2018
Not sure Arsenal fans would be pleased with another Mustafi! to be fair he does look far more promising.
The "Turkish Mustafi"

— Ronan Murphy (@swearimnotpaul) May 16, 2018
Good to hear.
He's better than Mustafi! ?

— Kevin Hatchard ?⚽️ (@kevinhatchard) May 16, 2018
Now this would be interesting! are you looking forward to post-Wenger Arsenal? if the team looks anything like below it would be pretty exciting.
Arsenal summer signings:

GK: Bernd Leno
CB: Caglar Soyuncu + Sokratis
CM: Max Meyer + Jean-Michael Seri (IF Ramsey leaves)

FW: Cengiz Under – Dependent on Welbeck leaving but could promote Reiss Nelson

Dembele is far fetched unless Rambo + Ozil is set for a swap to Barca.

— Mason (@TL_Mason) May 15, 2018