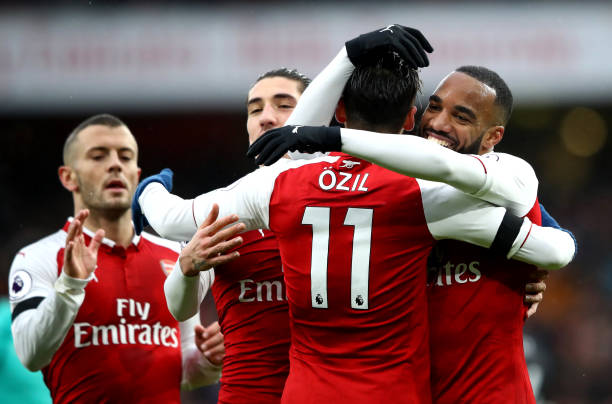 Arsenal star Mesut Ozil missed the last few Premier League games of the season with a back injury but has since recovered ahead of the World Cup in Russia.
The playmaker of Turkish origin shared a tweet of himself with Germany manager Joachim Low but it was his t-shirt that got people talking.
The 29-year-old was wearing a t-shirt that read 'Best Never Rest'.
This was the photograph that sparked the reaction.
Our #RoadToRussia continues in South Tyrol … ⚽ #DieMannschaft #Eppan #Trainingcamp #BestNeverRest @DFB_Team pic.twitter.com/gH5W2cxbCa

— Mesut Özil (@MesutOzil1088) May 24, 2018
See More: 3 Reasons £35m Arsenal Target Caglar Soyuncu Would Be A Success At The Emirates
We took a look at how Arsenal fans reacted to the t-shirt on social media.
Quite a few fans found the funny side of Ozil's t-shirt and thought it was ironic that he would wear 'Best Never Rest' considering how many games he missed through illness and his back problem.
Bro u taken more rest this year than females on paternity leave ???? hope you told @DFB_Praesident to go FCK himself ???

— Emiliano François ? #MerciArsène #YoPierre (@UnayEmre_) May 24, 2018
Is that some sort of joke after all the time off at Arsenal this season? Glad to see the "bad back" got better just in time for the World Cup. Hopefully Emery will not put up with this nonsense. Having said that Good Luck at the WC . Have a great tournament.

— frogleg58 (@frogleg58) May 24, 2018
Complete lies pic.twitter.com/EGTdosQvdX

— ѕαятєנ (@sartejt) May 24, 2018
Best Never Rest, a reference to your tireless chasing after losing the ball or often missplaced pass?

— Adam Zaziemski (@adamzaz) May 24, 2018
Best never rest?
Unless sick after a @martinkeown5 slating

— Lawrence Swan (@lj12swan) May 24, 2018
I suppose your back is ok now hey mesut?

— Craig Taylor (@CraigTaylor9) May 24, 2018
Did your back make a miraculous recovery?

— Lee Sharp (@leesharp44) May 24, 2018
You've had more rest than anyone in the premier league this season lol That back conveniently sorted itself out nicely just after the league finished.

— Chris new (@chris_new84) May 24, 2018
He may rest but he's still the best, isn't he? some agreed, others didn't.
He rested half of last season with 'Illness' ?

— Jon Davenport (@TheRealJonDavs) May 24, 2018
You rest more than anyone and you're the best. Please explain.

— TikiTakaConnor (@TikiTakaConnor) May 24, 2018
Amateurs call it genius, masters call it practice.
Simple

— Chibüikem (@Multi_Coloured_) May 24, 2018
And some people call it lazy and not committed

— gunner4life (@ABiancospino) May 24, 2018
Ozil was part of the Germany side that lifted the 2014 World Cup and is expected to be the star man again in Russia.
The playmaker is one of two players of Turkish origin in the squad, Manchester City midfielder Ilkay Gundogan being the other. Liverpool midfielder Emre Can was not called up to the squad.
Germany take on Austria next on Saturday 2 June followed by a friendly against Saudi Arabia on June 8 before the start of the World Cup next month.