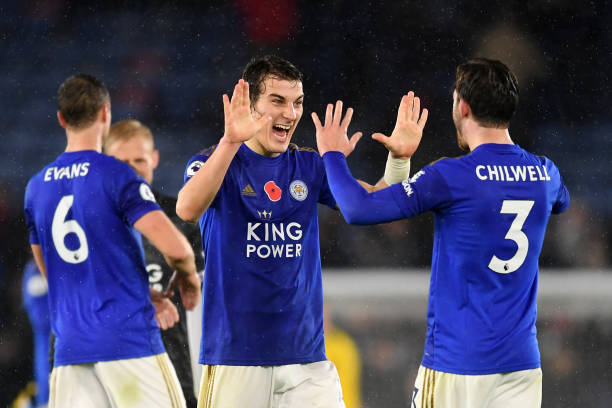 Leicester City beat Arsenal 2-0 at the King Power Stadium in the Premier League on Saturday to head into the international break in 2nd place.
The Foxes opened up an eight-point lead ahead of 6th placed Arsenal in the process following the victory.
Turkey international Caglar Soyuncu started for Leicester putting on another impressive display in defence.
Soyuncu helped his side keep another clean sheet.
Leicester have the best defensive record in the league this season conceding just eight goals in 12 games – the 23-year-old defender has started every match this term.
See More: How To Pronounce Leicester City Signing Caglar Soyuncu – The Toughest Name In The Premier League
We took a look at how fans responded to Soyuncu's display following the Arsenal clash on social media.
The powerful defender has become something of a fan favorite this season as the posts below demonstrate.
Sell Harry Maguire.
Bank an eye-popping £80m.
Promote Calgar Soyuncu.
Look much better defensively.
10pts clear of Man Utd.

?? #lcfc ? pic.twitter.com/j8kKO699W4

— Mr Geoff Peters (@mrgeoffpeters) November 3, 2019
Caglar Soyuncu when he empty's his pocket tonight …#EmeryIN pic.twitter.com/ZZihhizTNY

— Eren Sarigul (@_ErenSarigul) November 9, 2019
What a night. 2-0 win against arsenal. KP rocking under the lights. Dominated the game. This Leicester City side is very special. Pereira, Evans, Cags immense, Chilwell back to his best. Wilf Youri & Maddison class. Gray superb off the bench again. Vardy can't stop scoring? pic.twitter.com/XFpiITrVY3

— • (@lcfceurope) November 10, 2019
I think you have a lot of fans in Leicester Cags. Me included!

— Tom Lievers (@TomLievers) November 10, 2019
We are all in safe hands with you in the back four ?

— Dan V (@harlo786) November 10, 2019
He will keep us all safe pic.twitter.com/r2eCZ83E06

— David Wallace (@Andrew1TM) November 10, 2019
Cags showed he is up for a bit of banter.
— Çağlar Söyüncü (@Syncaglar) November 9, 2019
Even Arsenal fans were full of praise and remembered back to when the north London based outfit passed on the Turkey international.
I remember when #Arsenal were being linked with a move for Caglar Soyuncu.

Instead we've got David Luiz.

— The Short Fuse (@TheShortFuse) November 9, 2019
Leicester have the best defense in the league, arsenal were heavily linked with Soyuncu and Evans…both of them together? Less than Mustafi #LEIARS

— Calv (@Calvthom0) November 9, 2019
We turned our noses up at Soyuncu, Vardy, Rodgers and Tielemans, that's all really. Emery looks lost he isn't Edu's guy at all #arsenal

— Suberashi Auto Photo (@SuberashiAuto) November 9, 2019
Should he have been awarded a penalty? Gary Lineker sure thinks so!
One replay was enough to see that that was a penalty on Soyuncu. Not given, of course, but they'll spend 3 minutes playing with their silly offside lines to try and rule out goals. Weird.

— Gary Lineker (@GaryLineker) November 9, 2019
Leicester's famous son also bumped into Soyuncu at the airport after the game and took a cheeky selfie.
And then James Maddison did this.
Cags making me feel like Simba ? pic.twitter.com/UAt8MEjAg7

— James Maddison (@Madders10) November 10, 2019
And then Soyuncu responded with this.
Be cool bro ? You'r in the safe hands ?? @Madders10 https://t.co/leEvO7utss

— Çağlar Söyüncü (@Syncaglar) November 10, 2019
Leicester City also got in on the act with this response on the official club Twitter page.
Who did this? ? pic.twitter.com/PR4fzAnF0E

— Leicester City (@LCFC) November 11, 2019
I guess Soyuncu's new nickname is going to be the Lion King then.