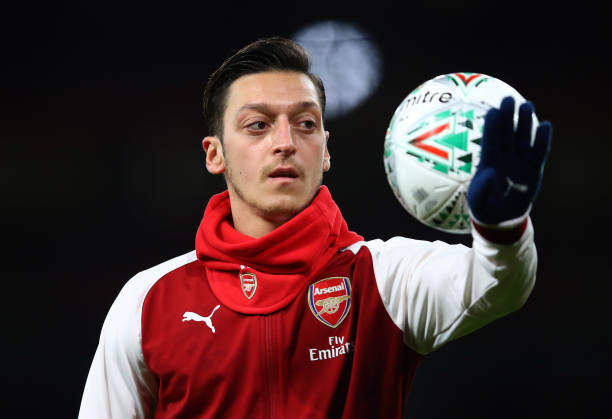 Arsenal reached the Carabao Cup final after beating Chelsea 2-1 at the Emirates Stadium on Wednesday.
Mesut Ozil started his first League Cup game and ended up on the winning side putting on yet another impressive display.
Ozil did not score or provide an assist for but he did receive widespread praise after the game.
We took a look at how Arsenal fans reacted to Ozil's display on social media.
Thoughts?
If Arsenal get that Aubameyang deal across the line they surely have the most fearsome front five in Europe

Ozil
Mkhitaryan
Lacazette
Aubameyang
Monreal

— James Benge (@jamesbenge) January 24, 2018
High praise for Mr Ozil! yet another impressive display for the playmaker of Turkish origin, this time against Chelsea.
Ozil has been superb in this second half. He's taken the game to Chelsea, ran at them, dragged them out of position and eased the pressure. Been a real leader out there.

— Charles Watts (@charles_watts) January 24, 2018
Forget watching the match, all young attacking midfield players should purely go & specifically watch Ozil live. His ability to find space & execute the right pass with the perfect weight is masterful. Almost always makes the best decision.

— Socanalysis (@SocanalysisHQ) January 24, 2018
That was such a clever ball from Ozil. Most would have played it along the 'corridor of uncertainty' and hoped someone was there, but he cut it back to Iwobi. Unrivalled vision in that type of position. #AFC

— Tom McDermott (@MrTomMcDermott) January 24, 2018
I'm not sure I've ever seen Ozil work this tirelessly. Given his all here. Proper leadership.

— Le Grove (@LeGrove) January 24, 2018
So funny how Ozil's always labeled a lazy player who never runs by most media even though his off the ball movement is one of his biggest strengths. Moves so intelligently without the ball. Always has.

— EiF (@EiFSoccer) January 24, 2018
Mesut Ozil my MOTM again. He's on another level to everyone else on the pitch. The only way to stop him is to foul, it even worked sometime for Chelsea but at the end his class showed. He worked his socks off as he has been doing all matches this season. HE WILL STAY.#COYG

— Lets Talk Arsenal™ ? ⚪️ (@ltarsenal) January 24, 2018
Btw how good was Ozil tonight? Don't remember when he gave away the ball

— Positively Arsenal (@bunyeezus) January 24, 2018
No idea how Ozil splits those two defenders to get the ball to iwobi. He finds such incredible angles and spaces to play a pass

— YankeeGunner (@YankeeGunner) January 24, 2018
Mesut Ozil doesnt go a season trophyless.

Trophies are in his blood wherever he goes. The man has single handedly taken Arsenal to another level.

— Römeo (@Arsenal490304) January 24, 2018
I don't care about what you say. Mesut Özil IS in our top 5 players in history and there is nothing you can do about it. Maybe not in terms of legacy but on ability he's easily up there.

— ♛AÖ♕ (@AssistantOzil) January 24, 2018
Even Manchester United fans agreed. Well they would. There are rumours that the Red Devils could end up signing the 29-year-old.
The Arsenal star has yet to reveal what where he will play beyond the end of the season.
Ozil will be a free agent at the end of the season unless he signs a contract extension.
He would not be the first Arsenal player to join United either..
Mesut Ozil is World Class.

— Utd (@SimplyUtd) January 24, 2018
Dear @Arsenal

Rather than letting Ozil go for free (which is rather silly), why don't you get another world class player from @ManUtd to swap with him? Our suggestion is Fellaini? It's a like-for-like deal, no cash involved. Seem fair?

Kind Regards.

P.S. @DiMarzio let us know

— The United Stand (@UnitedStandMUFC) January 23, 2018
how does Kante keep being mediocre against Ozil 90% of the time.

— Kulé (@ifeanyi_oka4) January 24, 2018
Mesut Ozil to Iwobi after the game#Hopeless pic.twitter.com/bgov7kkMvu

— Turkish Football (@Turkish_Futbol1) January 24, 2018
There's no midfielder better than Mesut Ôzil in the EPL. He's the most complete. Pacier than he looks…wide range of passes…ball retention…dribbling…stamina… strength…vision…work rate…many more. Give him what he wants!

— Odadobra (@sculito) January 24, 2018
It really is time to dispell the myth that Ozil does not perform in big games. The 2014 World Cup winner has proven on numerous occasions now that he can perform at the highest level against tough opposition.
Not bad for a guy who "disappears in big games" eh?

— Danny Allen (@NewTruegunner) January 24, 2018
" Ozil always ghosts in big games " FC pic.twitter.com/cHcXwyOKrF

— DADDY THE FATHER (@SemilooreAkoni) January 24, 2018
Must be tough for Chelsea fans… they do not have the best record against Ozil lately.
We play well, we lose to Arsenal
We play shit, we lose to Arsenal
We cheat, we lose to Arsenal
Ozil doesn't play, we lose to Arsenal
We play our best team, we lose to Arsenal

— BiIIy (@COYBiIIy) January 24, 2018