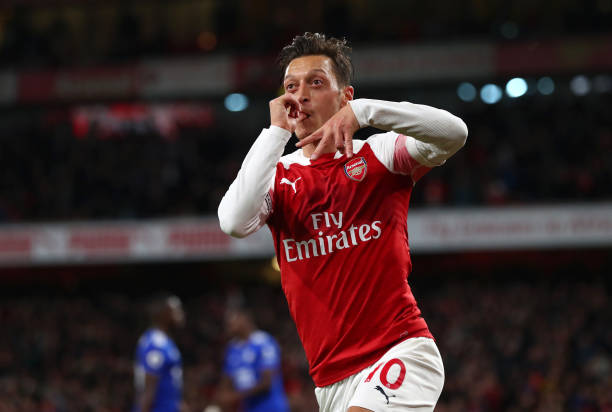 Crystal Palace held Arsenal to a 2-2 draw at Selhurst Park on Sunday to put an end to their 11 game winning run.
The Gunners came from behind to take the lead but were eventually pegged back to end the game in a draw.
Mesut Ozil returned to the side after being rested in the Europa League against Sporting Lisbon on Thursday.
The playmaker of Turkish origin was substituted for Danny Welbeck in the second half and responded by throwing his gloves to the ground.
Ozil looked frustrated after being taken off but struggled to replicate the form he showed against Leicester City last week.
See More: Watch Graeme Souness Rips Into Arsenal Star Mesut Ozil In Rant Following Crystal Palace Draw, Mocks Substitution Incident
There were several fans who were not happy that Ozil was taken off and felt the Gunners could have done with the playmaker in their hunt for the winning goal.
Good move to bring Welbeck on to help track back. But I would have taken of Lacazette. We lose some control in midfield without Ozil.

— LTArsenal™ (@ltarsenal) October 28, 2018
Nothing wrong with Ozil having a little red ass after getting subbed off. He wasn't poor by any stretch of the imagination, but he is capable of more and Welbeck offers more defensively to close out the match.

He's showing fire, that's a good thing. #CRYARS #COYG #M1Ö

— Nate Smith (@nws13) October 28, 2018
Taking ozil off completely ruined the momentum we were on after those goals man. Should've been iwobi or laca

— bethany (@almiditi) October 28, 2018
Mesut Ozil upset at being subbed….NOW I know the Emery Evolution of Mentality is hitting home with players no matter their wage packet or name status.#PlayHardOrGetSubbed

— Mr DJ (@ExpatGoonah) October 28, 2018
I blame you @UnaiEmery_ for this one. Why would you sub off Mesut and Auba? I mean Welbeck for Ozil? What was you thinking boss? DM and I'll give you some proper tactics.

— Lacazettes (@Lacazettes) October 28, 2018
Lacazette was very poor today and like I said, he should have come off and not Ozil. Emery cannot always get it right, he's human too. The ref had a shocker today as well.

— LTArsenal™ (@ltarsenal) October 28, 2018
Ozil was also criticized by some fans for not performing at the level we all know he can. To be honest he was not at his best but was not terrible either.
Disagree Ozil was poor today lacazette was also lucky to stay on

— Richard Jeffries (@Richjeffries66) October 28, 2018
Ozil was having one of those games; he as barely influencing the match. At least with Wellbeck we had someone who shows a lot of energy both sides of the pitch.

— Jesmond Micallef (@jsfmica) October 28, 2018
Ozil was having one of those games; he as barely influencing the match. At least with Wellbeck we had someone who shows a lot of energy both sides of the pitch.

— Jesmond Micallef (@jsfmica) October 28, 2018
Control ??? Did you watch the game what control did ozil bring to this game?

— billysingh (@billy_parmar) October 28, 2018
Ozil did nothing when he was playing… Auba should have stayed on though

— Fly with Caro (@CaroGarciaFan) October 28, 2018