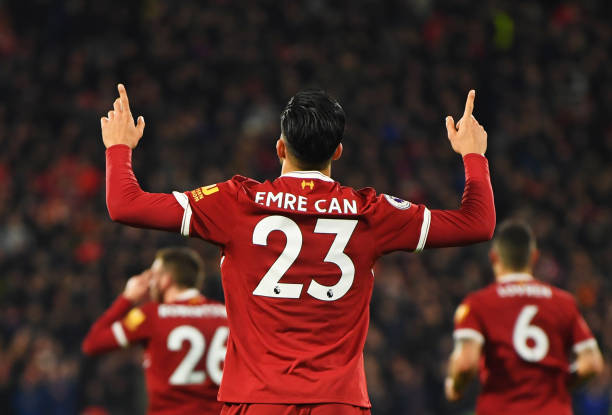 Liverpool have traveled to Marbella, Spain for a warm-weather training camp ahead of the Champions League final against Real Madrid on Friday.
There was a surprise name among the traveling party as Emre Can joined the squad.
The midfielder of Turkish origin has not featured for the Reds since coming off injured during the 5-0 win over Watford before the international break.
We took a look at how Liverpool supporters reacted to Can returning to squad ahead of the final.
See More: From Altinordu to Arsenal – Meet the highly rated 21 year old centre back making a name for himself in the Bundesliga
Liverpool fans did not appear best pleased with the latest development. Can was accused of conveniently recovering and caring about the team now that they have reached the final.
If he's not renewing his contract no way, wouldn't even give him a ticket

— jason foley (@jasonstar54) May 16, 2018
If he rides the bench, this is sensible. Otherwise, don't much like inviting Judas to the dinner table. It's bad form.

— Caroline Herring (@elmntsofpurpose) May 16, 2018
What's a Juve player doing with the Liverpool squad..

— WhatDivock (@whatdivock1) May 16, 2018
Hopefully its a one way ticket??‍♀️

— Helen ♡ (@Hellylfcx08) May 16, 2018
He can stay there aswell

— Kieran Connolly (@kieconnolly) May 16, 2018
Showing Emre what he is missing . Jk rubbing his nose in it ?

— Melvin wood (@liverpaul66) May 16, 2018
The midfield is better without him.

— Samue ?? (@VintageSalah) May 16, 2018
Wow……. why… were not good enough for him.. help him pack

— David seeney (@Seenedavid) May 16, 2018
Fair play to him declining that meet and greet photo shoot this week, but even if declared fit, he should (barring any catastrophic player shortage) , he should not be allowed anywhere near the squad for the CL final.

— Dave Walker (@kiltedup) May 16, 2018
Hope he paid for his own ticket……..

— scott (@ScottMoffett01) May 16, 2018
Put him in a CR7 outfit and use for target practice

— Arron Gwinnett (@infiniteamg) May 16, 2018
What a coincidence that Can is becoming fit just in time for the final…

— chris mcclellan (@__McClellan) May 16, 2018
Careful with that bag Emre… Don't do your back in?

— Neil Bagwell (@bifbaggers) May 16, 2018
Who agrees with this?
Lol I really don't understand what this lad is chasing. I mean all Juve has literally done or lemme say achieved in recent years is to go to the UCL final and get beat by Real. And we're going to beat them.. what in the world is his logic

— #6 ?? (@_CobbyIke) May 16, 2018
If it is a case of Can not signing a new deal because he wants a release clause would it be worth the Reds giving him one? otherwise it looks like he will be leaving for free.
Put a release clause no problem at least we will get money if he left and nothing we get now ?

— Arron Gwinnett (@infiniteamg) May 16, 2018
Not everyone thinks Can shouldn't get a second chance.
Imagine hoping Emre Can will be unavailable for the UCL final when we're an injury away from playing A-Level student Ben Woodburn against Kroos and Modric

— Natasya Zainal (@nzcas) May 16, 2018
Dislike him all you want, that's your prerogative, but there is no way Emre Can is feigning injury- leaving or otherwise. No footballer would do that and jeopardize missing a World Cup, which he has, and maybe playing in a Champions League final

— John O'Sullivan (@NotoriousJOS) May 16, 2018
Still a Liverpool player. So I'll support him

— Darrell Clarkelfc4life (@DarrellClarke13) May 16, 2018