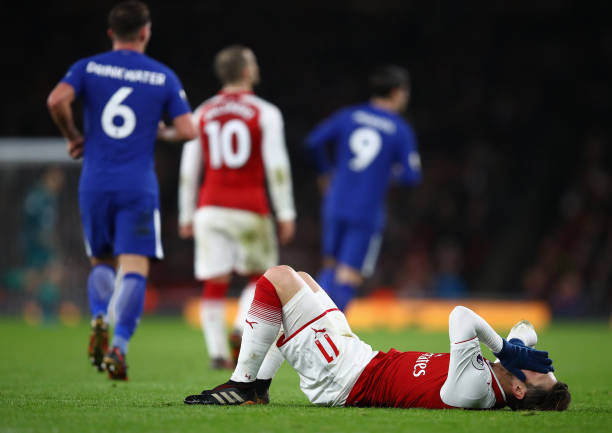 Mesut Ozil was on the end of some pretty shocking abuse after Germany were knocked out of the World Cup last week.
German football reporter Raphael Honigstein tweeted that the attacks on Ozil have been 'disgusting'.
They're probably best ignored – they crave the attention beyond anything else – but the right-wing attacks on Ozil in Germany right now are are absolutely disgusting.

— Raphael Honigstein (@honigstein) June 28, 2018
It's reached a whole new level with AFD politicians having a field day. Not just random trolls anymore. Bild, too, got in on the act.

— Raphael Honigstein (@honigstein) June 28, 2018
The right-wing, anti-immigration German party AfD have been busy hurling attacks at Ozil.
See More: Conflicting Reports Over Arsenal Talks With £30m Bundesliga Star, Transfer Request Submitted
AfD politician Uwe Schulz tweeted and later deleted this xenophobic message: "Our national team did not participate anyway."
AfD press spokesman Christian Lüth tweeted "Ozil can be satisfied, congratulations Erdogan".
#Özil kann zufrieden sein, Glückwunsch #Erdogan

— Christian Lüth (@christianlueth) June 27, 2018
Another AfD member, Jens Maier, meanwhile had the following to say, "We would have won without Ozil." He shared a photo of the Arsenal player with the line "Satisfied, my President?".
Ohne #Özil hätten wir gewonnen! #KORGER pic.twitter.com/srG5BQmpts

— Jens Maier, MdB ?? (@JensMaierAfD) June 27, 2018
See More: Arsenal Set To Lose Final Class Of 92 Star That Lifted 2009 Youth FA Cup Following Crunch Talks Over Summer Move
Ozil responded with a twet which included the message 'Say No To Racism'.
Arsenal fans rallied behind their star man defending him following reports of racial abuse directed at the playmaker after Germany's exit from the World Cup.
Some fans started up the 'I Stand With Ozil' hashtag to show their support for the 29-year-old.
Ozil had to be restrained by another member of the German backroom staff after he was racially abused by German fans who called him "Son of a Turkish whore/bitch" #SayNoToRacism pic.twitter.com/3ZMasNlUY1

— Memź Özil ℹ (@Durchiga) June 29, 2018
It's time to rally around Ozil, I don't care what you think him as a player. No one should be abused racially, or have to put up with people bringing his family into it. #IStandWithÖzil

— SBG (@ScottyBoyGooner) June 29, 2018
#IStandWithÖzil #SayNoToRacism pic.twitter.com/z5E2NpNJXI

— Memź Özil ℹ (@Durchiga) June 29, 2018
I don't care what you think about him, but the abuse he's been getting from German fans for his Turkish roots is disgusting, Arsenal fans need to get behind him, no matter what you think about him. https://t.co/lkyDmvFFKO

— MR DT © (@MrDtAFC) June 29, 2018
100% stand with you @MesutOzil1088 football to one side, there should be and better be a zero tolerance of all racist chants and jeers across the board…..

Human beings will allow all kinds of reasons to unearth their subvert racist views

— Jimmy Darcée (@The_One1001) June 29, 2018
Be proud of your Turkish history & blood @MesutOzil1088 Because we are proud of you. Ne mutlu Türküm diyene pic.twitter.com/fGe4naoPzV

— Memź Özil ℹ (@Durchiga) June 29, 2018
german fans and arsenal fans alike make you a scapegoat but there are some of us that apprechiate your genius . dont worry mesut @MesutOzil1088 we stand with you #SayNoToRacism #MesutOzil

— 5?Gen (@bossmandollar) June 29, 2018
Ozil for Germany:

2010 WC- Semi Finals
2012 Euros- Semi finals
2014 WC- Winner
2016 Euros- Semi finals

Between these successful years, he won the German National Team player of the year award 5 times.

The best always get hate. pic.twitter.com/3YxpJcyODp

— LTArsenal™ (@ltarsenal) June 29, 2018
This is the kind of movement that arsenal fans should be joining. #IStandWithÖzil https://t.co/tKiNZfGbzP

— #IStandWithÖzil (@nwozorsomto) June 29, 2018
#IStandWithÖzil @MesutOzil1088 we got you matey

Know your true fans ??

— saxon71 (@stuafc71) June 29, 2018
It's gone beyond football mate it's racial and it's disgusting we need to get behind the guy and give him our full support #IStandWithÖzil

— Chris French (@archythegoon) June 29, 2018