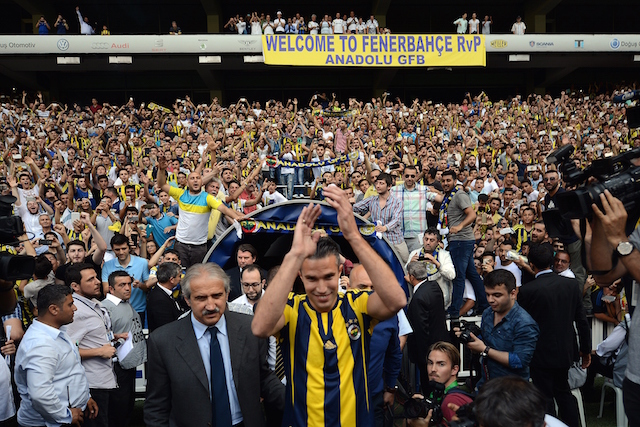 Fenerbahce extended their unbeaten home record against cross-continent – and city – rivals Galatasaray which has stood since 1999 following the 2-0 victory at the Sukru Saracoglu stadium.
Robin van Persie was the star of the show bagging a brace against the Lions – his first goal in the Intercontinental derby.
The Istanbul derby is the only major clash in Europe and arguably the world that involves two clubs from the same city but on different continents playing each other.
The derby is renowned around the world as having one of the most intense rivalries in football.
Van Persie has played in several big derby games including the North London derby between Arsenal and Tottenham, the Manchester derby between United and City, the Manchester United v Liverpool derby and also Feyenoord v Ajax – having scored in all the derbies mentioned.
The experienced striker revealed after the game that while they are all big derby games he felt that the Intercontinental derby is more 'special'.
Speaking after the game Van Persie was quoted by Turkish-football.com as saying: "I played derbies before, big derbies, but in this derby the atmosphere is something else, it is more special."
GOL! Robin van Persie (who else) puts Fenerbahçe ahead against Galatasaray! pic.twitter.com/qUtec4CSEz

— Turkish Football (@Turkish_Futbol1) November 20, 2016
Fenerbahce moved into third place in the league following the victory over Galatasaray. Van Persie now has 12 goals and four assists in his last 14 league games.