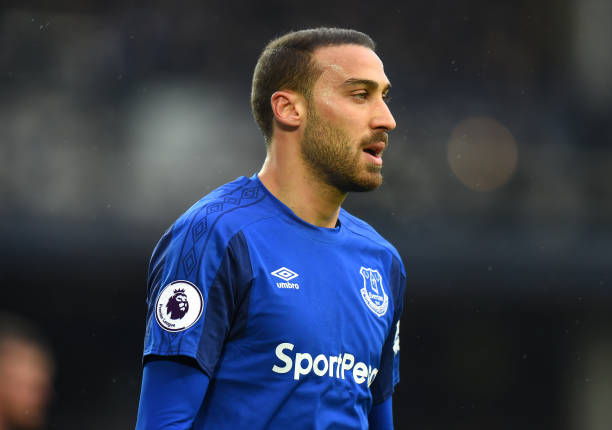 Cenk Tosun joined Everton amid high expectations when he joined on a £27 million move from Besiktas in January.
The Turkey international was in great form prior to completing the transfer scoring 14 goals and providing three assists for Besiktas.
Tosun had four goals and two assists in the Champions League for the Black Eagles and turned down the chance to face Bayern Munich in the Last 16 in favor of making the switch.
Tosun has however, started just two games since making the move and has been dropped for Oumar Niasse over the past three games.
Sam Allardyce revealed why the 26-year-old has not been playing in his latest press conference.
We took a look at how Everton fans reacted to Allardyce's comments on social media.
Everton fans raised the question, how does Big Sam know Tosun is not up to pace with the Premier League if he has not bothered to play him?
Do tell how you can possibly know that when you haven't played him

— Cathy (@CattieWhit) February 12, 2018
How does he know that? Tosun has hardly had any game-time since we signed him.

— David Vick (@DavidVick5) February 12, 2018
How can he be "struggling with the pace of the league " when he's barely had a chance to find out exactly what that is? Plus, at 4-0 down against Arsenal at HT, he could have given him the second half – match was already lost 🤦🏻‍♂️

— Andrew Clucas (@Andrew_Clucas) February 12, 2018
Apparently, Tosun is finding the weather too cold.
I find that hard to believe really as he grew up in Germany and it often snows over the winter in Istanbul.
Sam Allardyce has said that new Everton £27m signing Cenk Tosun is struggling with the English weather and the pace of the game in the Premier League. pic.twitter.com/FDv1WKEpYc

— Football Transfers (@TransferBibIe) February 12, 2018
Lad grew up in Germany!!
Colder than here!!!!

— SLAB (@scabater) February 13, 2018
It's currently 0 degrees in Wetzlar where he's from

— Liz (@Gwladruns) February 12, 2018
Daily mean February temperature in Istanbul is 1 degree higher than in Merseyside.

He's basing his assessment on one thing, and it's not how much he shivers. pic.twitter.com/DOTtglGFfx

— Mat Flusk 🇪🇺🌹 (@MatFlusk) February 12, 2018
Is Allardyce to blame?
We've spent £52m on Cenk Tosun and Davy Klaassen and sam Allardyce can't be arsed getting them up to speed to be in our first team. Both Walsh and Allardyce need binning off come may

— Simon J Villiers (@sjv_simon) February 11, 2018
Moshiri personally scouted Cenk Tosun and now that gravy loving prick won't play him reason 76 why he will not be manager next season

— Ben (@BT_1878) February 12, 2018
Allardyce's excuses over not playing Tosun ring as hollow as his promises about Klaassen and Sandro. #EFC https://t.co/RB2Gy80REW

— Royal Blue Mersey (@RBMersey) February 12, 2018
I cannot get my head round the ridiculous statement #Allardyce made regarding #CenkTosun It's so disrespectful to the man. What was the point of buying him if he won't play him. Was it to satisfy the fans clamour for a striker ? No accountability as usual.

— Ann McGoldrick (@ann_mcgoldrick) February 12, 2018
Allardyce said he will play Tosun when Everton are safe from relegation. I don't really get it, neither does Samuel.
If it's true what sam has said about cenk tosun then I no longer understand football one little bit! Saying he's not playing him until we're mathematically safe. #Everton #efc @grandoldteam @EvertonArentWe

— Samuel (@yates_sammy7) February 13, 2018
Or Jonsta.
Big Sam to Everton's board: Spend £27m on Cenk Tosun

*only to play Cenk Tosun when #efc are safe from relegation* pic.twitter.com/9Jc6wg6P6S

— Jonsta (@Jonsta1990) February 13, 2018