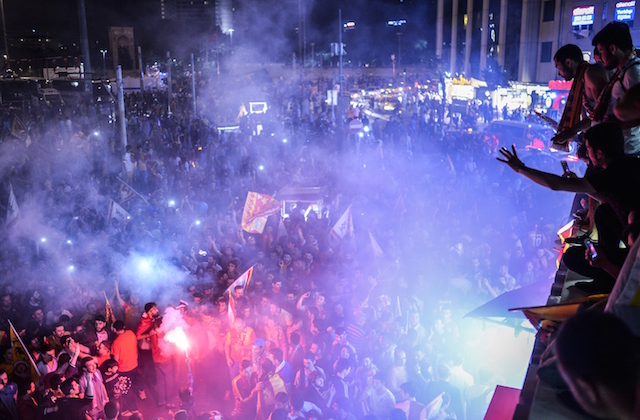 Article by Thomas Wyer – You can follow Thomas on Twitter
Of all the emotions felt towards Vítor Pereira in the Süper Lig, pity isn't usually one of them.
Revulsion? Perhaps, but then the Portuguese was under no illusions when he took up his post with Fenerbahçe in June. Jealousy? This seems obvious, given that Pereira's dreams surely came true when he left an Olympiacos side unwilling to indulge his spending proclivities for Kadıköy, where the streets are newly paved with gold. Admiration? Certainly this is warranted, given the Yellow Canaries' impressive summer of acquiring both the cream of Turkey in Ozan Tufan, Volkan Şen and Fernandão alongside the rich imports of Robin van Persie, Nani and Simon Kjær. But pity? To many, the idea is laughable.
Nevertheless, the Portuguese inherited an unenviable task upon swapping the docks of Athens for the Şükrü Saracoğlu. For all that it may seem otherwise, Fenerbahçe have no less a challenge ahead of them than do a turbulent Galatasaray, or a Beşiktaş team with a point to prove.
This year may be a contest of management as much as ability, a battle more between Vítor Pereira, Hamza Hamzaoğlu and Şenol Güneş than it is between Robin van Persie, Wesley Sneijder and Mario Gómez.
Pereira may have received a nautical education at Piraeus but this year may come down less to the size of the boat as to who can keep their hand firmly on the tiller in troubled waters.
With the ennoblement of their first foreign manager in half a decade coming alongside the appointment of the energetic Giuliano Terraneo as Director of Football, Pereira's arrival heralded a sense of cosmopolitan progress, of a modernisation programme whose traction was only fed by the arrival of foreign imports. In Asia, there is expectation brewing amongst Fenerbahçe fans lusting to avenge the embarrassment of ceding the fourth star to Galatasaray last term.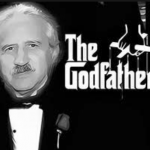 An expectation which, so far, seems justified, for Fenerbahçe have set off from the blocks with all the hunger of an Olympic sprinter, racing to a three point lead even as incumbents Galatasaray are caught napping in eighth place. In Nani, Robin van Persie and Lazar Marković the Canaries' prized starlings have hit the ground running, exemplified by the assist and two goals achieved between them in the 2-1 win against Bursaspor.
But while the sun glows when it rises it may dim as it sets, and it may not always be so easy. Pereira may have a hard time massaging the egos of such troublesome professionals. Just five games into the league season, van Persie has already thrown his first tantrum. Whilst any striker could expect to be dropped after a goalless three games, the former Manchester United star considers himself exempt.
Van Persie is not a team player and will not allow Fenerbahçe to get in the way of his Turkish swansong, regardless of whether he is most effective off the bench. Alongside Marković, who forced his loan from Liverpool to gain playing time and still seeks to return, Pereira's prized possessions are more interested in their own benefit than that of the team and will not react kindly to being dropped whatever their performances. Pereira's easiest challenge may be in ensuring that his fellow countryman Nani maintains his good form, despite his inconsistence and well-documented tendency to fade over the course of a season.
The Portuguese has a hard task, then, in keeping his stars happy and motivated, a task he failed at when last presented with the challenge, with James Rodríguez at Porto. With this failure coming off the back of Champion's League defeat to Málaga, the ghosts of Pereira's past may be returning to haunt him in Istanbul. Off the back of a poor European campaign and an ignominious defeat to Molde in the Europa League, Pereira must continue to ensure domestic success as his best safeguard against his rebellious stars.
Yet whilst the challenge may be different on the European side of the Bosphorus, it is no easier. For Hamza Hamzaoğlu at Galatasaray, the Lions' jubilation at winning the treble last season is not enough, apparently, to protect him against the poor results of this term that have already created rumblings of discontent.
Hamza's balancing act is far more difficult: overshadowed by a woefully inept board who, under Dursun Özbek, have proved as incapable of acquiring new signings as they have at finding a sponsor, the departures of Felipe Melo and Alex Telles to Inter Milan have left the Lions woefully understaffed.
Mancini's Alex Telles gets the assist for Felipe Melo's winning goal. Great result for Galatasaray. Oops, Inter ? pic.twitter.com/E5d28BLenR

— Red&Yellow (@Ataqoz) September 23, 2015
For all Hamzaoğlu's tendency to make stupid mistakes, to leave it too late to make changes when things go stagnant as against Mersin İdmanyurdu or to put his faith too heavily in players like Umut Bulut who seldom repay it, he is a young manager still learning, who showed last term that he still deserves a chance under a competent board. He too would have liked more signings.
With the suspension of Lionel Carole against Mersin Galatasaray were forced to turn to Olcan Adın at left-back, whilst the central-midfield pairing of Selçuk İnan and Jose Rodríguez has proved disappointingly ineffective given the Spaniard's tendency to take up many of the same positions as the Galatasaray captain and so to effectively disappear, leaving a gaping hole in the final third where once the Pitbull would have roamed. It is telling that the pairing of Rodríguez and Bilal Kısa against Trabzonspor was perhaps Hamzaoğlu's most effective.
Trapped between an inept board and a team whose staffing crisis has become only more obvious with injury to Burak Yılmaz, Hamzaoğlu faces the unenviable task of holding things together and keeping Galatasaray competitive until January, when the Lions must bring in the reinforcements they need.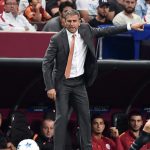 It is Beşiktaş who face the least steep hill to climb, although having not won the league in six years they have the furthest to come. In place of the fire and brawn of Slaven Bilić, a man with obvious deficiencies particularly in his inability to win derby games, Beşiktaş have introduced Şenol Güneş, whose brand of attacking excitement brings the requisite level of drama to a club who clearly expect it at the new Vodafone Arena, keeping pace with Fenerbahçe whilst outscoring them by five goals.
In the form of Mario Gómez Beşiktaş have acquired a striker of real pedigree, to accompany the returning Ricardo Quaresma, who appears to be returning to form with two goals against Istanbul Başakşehir. This year, perhaps, might be the first for some time that Beşiktaş have had the firepower to match their metropolitan rivals.
Firepower, however, has never been the problem for Şenol Güneş; it is in defence that the mastermind of Turkey's famous 2002 World Cup campaign is perhaps lacking. At the same time as keeping the Eagles' forwards scoring, which with Mario Gómez has recently been far from guaranteed despite his evident ability, Güneş must ensure fitness in a squad weaker than those of his rivals. Given that Gómez and Quaresma are both past thirty, this will be no easy task.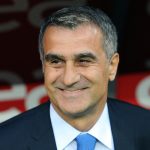 With the absence of key players like Veli Kavlak already, Güneş can afford few injuries and must manage the difficult balancing act of achieving results whilst treating his players with kid gloves until his squad returns to full strength. The claim of Beşiktaş to the title is always an outside one, yet, with a bit of luck, the Eagles have a better chance this year than most.
In Istanbul, then, the battle is as much one of managers as it is of players, of administration as much of ability and of luck as much as skill. Over the course of a long season there is plenty of opportunity for excitement and acrimony, for injury and implosion and for a special brand of drama unique to the Süper Lig. With the first derby between Fenerbahçe and Beşiktaş this weekend, we may get our first taste of fireworks earlier rather than later.