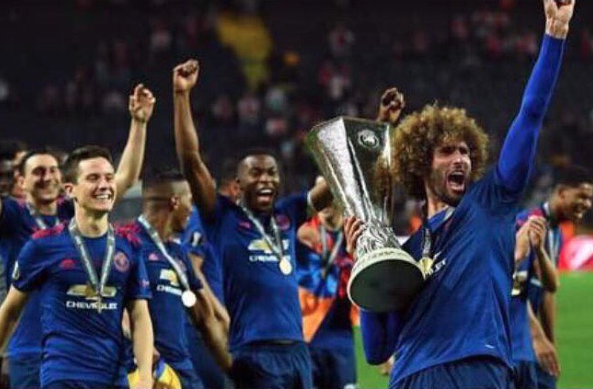 'Jose love him. I don't understand' – Man United fans left puzzled by reported £8m midfielder exit on social media
Manchester United midfielder Marouane Fellaini could be headed for a January exit according to reports in England.
In fact the Mirror claim that the Belgium international will join Besiktas after an £8 million transfer fee was agreed.
Fellaini has under 12 months remaining on his contract and has yet to sign a new deal so reports of him leaving the club are not that far fetched.
Still, Jose Mourinho was a vocal supporter of Fellaini.
We took a look at how fans reacted to reports that the powerful midfielder could be on his way out.
United fans seemed a bit confused by the reports. Jose Mourinho appeared to be keen on Fellaini so why is he tipped to leave in January?
I don't understand why Fellaini is suddenly leaving? José loves him. I don't understand?

— Adam ♦️ (@JournaIiste) November 12, 2017
Not sure how I feel about Fellaini possibly being sold in January because I've grown to really like him and he is a valuable member of the United team IMO

— Fiona May (@fionamay4471) November 12, 2017
Why would we sell Fellaini to Besiktas in January when he's become an actually useful player this season? #Rantcast

— Ben Charlwood (@escapehere) November 12, 2017
Would Mourinho be ok with Fellaini leaving?
Jose will fume if Fellaini goes but tbh, ya can't change club policy for fuckin Fellaini

— Azúcar (@NickiiDupre) November 11, 2017
Or is Mou playing a game?
Mourinho always says things like to increase the players' market value. He then off loads the player at the first opportunity. Watch.

— Graham (@grahamwn7) November 12, 2017
Expect a social media storm, the 'Come To Besiktas' campaign went viral over the summer. It could be back this winter.
Marouane Fellaini could be about to leave Manchester United and #ComeToBesiktas in a reported £8m deal, per @MirrorFootball https://t.co/9jrpnsSIVD pic.twitter.com/KrDtilt55M

— B/R Football (@brfootball) November 12, 2017
The stats say Fellaini should stay.
Mourinho has a better win ratio in the Premier League as Manchester United manager with Marouane Fellaini in the starting XI – Should United give him a new contract? pic.twitter.com/k2zRHwsxzN

— WhoScored.com (@WhoScored) November 12, 2017
Not all United fans seemed upset.
Apparently Fellaini is going to Besiktas in January — Thank God.

— ✂️Ɗ. (@UtdDN) November 12, 2017
The £8 million price tag raised a few eyebrows among Besiktas fans.
You got it wrong mate. Manchester United to pay £8m for Fellaini's move to Besiktas 😂😂

— BIANCONERO (@johnnykartal) November 13, 2017
Calm down. We dont pay 10 m any player. Probably he sign free End of the season.

— kala (@artbw1903) November 12, 2017
Besiktas president does not pay this price 😂 pic.twitter.com/kt8nV9fc7b

— Hoolligan.JK (@West_Hoolligans) November 12, 2017
Becuse Besiktas won't pay £8m for him 💁

— ProfessionalFanOfBJK (@_09Negredo) November 12, 2017
Would the transfer of Fellaini mean the end of Atiba? or could they play together?
This Besiktas fans feel if anything, the United fan should be Atiba's backup.
Atiba Hutchinson > ManU

— Kara Bilal ١٩٠٣ (@Bilal_Oezer) November 12, 2017
Pepe > Manu

— BEŞİKTAŞ SEVDALISI (@Besiktas03q7) November 12, 2017
Rubbish player….Atiba>fellaini.

— Ævar Ragnarson (@kvvn1903) November 12, 2017