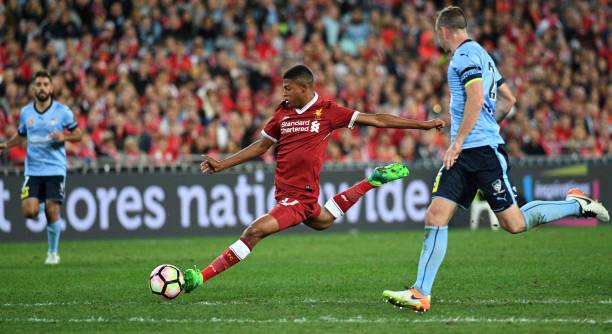 Jurgen Klopp wrote a heartwarming letter praising Liverpool, the team effort, Mohamed Salah but there was a surprise – lengthy – mention reserved for Rhian Brewster.
Klopp dedicated a hefty portion of the letter that was read out at last night's Football Writers Player of the Year Awards to the 18-year-old.
Brewster travelled with Salah to last night's ceremony in the Landmark Hotel in London and he received praise after a troubled season that saw him speak out against racist abuse.
The youngster is of mixed heritage and has a Turkish Cypriot mother making him eligible to represent Turkey in addition to England at senior international level.
See More: Who Is Arsenal Target Caglar Soyuncu – Everything You Need To Know About The £35m Rated Defender Taking The Bundesliga By Storm
Klopp wrote the following: "Rhian Brewster is just 18 years old. During the past 12 months Rhian has established himself as one of the most exciting prospects in English football. He has grown and risen in status at Liverpool. He won the world cup for your country at his age level — he won the golden boot at that very same tournament. He made his family — his friends — his club — and his country proud in doing what he did on the football pitch.
But it was away from the football pitch — and instead in the pages of a UK newspaper — where Rhian made an even bigger impact on the game we all love and even a significant impact on society.
Aged just 17 at the time — and at his own behest — albeit with the support of his family and friends — plus the support of the incredible academy staff at Liverpool — he sat and spoke about racism in modern football with the same power, command and composure that he shows when playing.
The newspaper who carried the original story was then supported by other journalists — and other publications — many of whom I am sure are in the room tonight — in making sure Rhian's voice was loud and clear in articulating that racism and discrimination still exists and persists in our game.
That it takes a 17-year-old boy to do this is as frustrating and depressing as it is inspirational and up-lifting. That many of you in the room were so supportive in spreading his message is testimony to journalism in this country.
It is fitting that alongside Rhian – as part of the LFC table tonight — is Troy Townsend and other colleagues from Kick it Out. Troy and Kick It Out supported Rhian, Liverpool and other players during the very difficult periods following the occasions of racist abuse. They do so for players, staff, supporters up and down the country.
Troy and the team at Kick It Out help to educate players and staff at Liverpool — be it first team, academy or Ladies — on the importance of recognising we all still have lessons to learn in football — and in life — to ensure we are inclusive and not discriminatory.
As Rhian articulated so well in his interview – in England we are fortunate that big strides have been made whereby his own experiences have been largely restricted to European and International competitions — but sadly racism and discrimination is not exclusive to football overseas and therefore Troy and Kick It Out are still as important as ever to the game in this country."
Brewster said he was racially abused in a Uefa Youth League game against Spartak Moscow.
European football's governing body said it could find no conclusive evidence after investigating the allegations.
A Uefa statement said: "After concluding his investigation, the inspector found no evidence to corroborate the allegations, which he believed were made in good faith by Rhian Brewster.
"Therefore, the Uefa control, ethics and disciplinary body, following the recommendation of the inspector, established there was no evidence that would legally support sanctioning Leonid Mironov and thus decided to close the disciplinary proceedings."
The rising star stated he was abused by Spartak Moscow youth side captain Leonid Mironov in the Reds win over Spartak at Prenton Park in December.
Five players from each side as well as the match officials were all interrogated about the incident, but none could confirm hearing any discriminatory language.
Mironov admitted swearing at Brewster but denied using racist language.