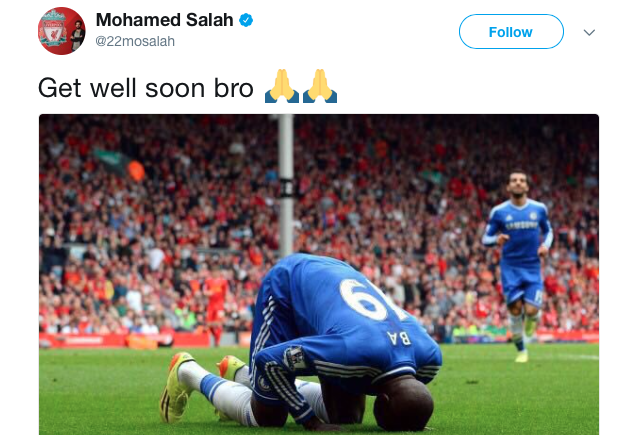 'Leave my club pls' – Liverpool fans rage at Mohamed Salah tweet
Mohamed Salah completed his move from Roma to Liverpool for a club-record £35 fee (BBC) last week.
Salah appearaed to have sparked controversy after a tweet he made for former Chelsea striker Demba Ba.
The Senegal international is currently on loan at Besiktas but is set to return to his parent club.
Ba was top scorer in the Turkish league during his time at Besiktas but he conjures up less fond memories after delivering a serious blow to Liverpool's title challenge in 2014.
We took a look at how Liverpool fans reacted to Salah's tweet on social media.
There were a few fans not pleased with Salah's tweet but we can't help but think some supporters were slightly overreacting. Or perhaps some supporters were being sarcastic.
After all the tweet was from a year ago before he was a Liverpool player and to be fair he is just sending his best wishes to an injured former teammate.
Leave my club pls

— Shaan ⚡ (@FirmiFatale) June 28, 2017
sigh. We don't want you at our club then.

— Zeal (@AnfieldForce) June 20, 2017
Erm we don't want you at are Cluj

— Ronnie (@seriouslygini4) June 20, 2017
Delete this Mo! Seriously just delete this

— Nishan LFC Aryal (@Nishan_LFC) June 28, 2017
delete bro please .

— Master Ganyani . (@Bhut_MKay) June 28, 2017
There were Liverpool fans who thought it was all an overreaction.
Are #LFC fans seriously abusing Mohammed Salah for wishing his friend Demba Ba well after a potentially career threatening injury? Lol. Wtf.

— LFC Dagger (@lfc_dagger) June 29, 2017
Ik tbf it was just a photo of him but yeah everyone going mad about it

— George Goldie (@GeorgeGoldie2) June 28, 2017
This is over a year old. Why's it a problem?

— Mr Jackson (@IT_Geek2010) June 27, 2017
I cant belive those stupid fooking pricks are giving hate to Salah for sending a support message to Demba Ba a year ago!!

— TorresLFC (@TorresisABeastt) June 29, 2017