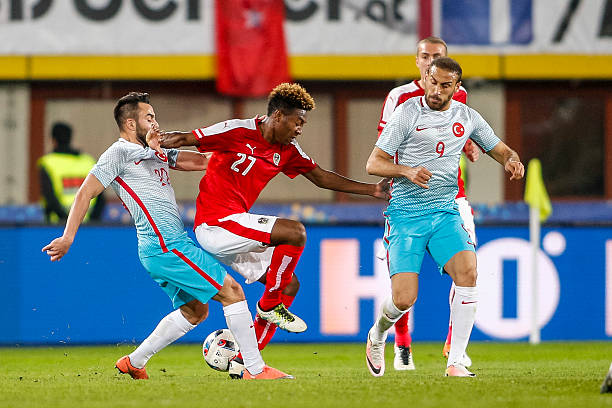 Turkey national team manager Mircea Lucescu has opened up about the Cenk Tosun sending off in the 2-2 draw against Tunisia in Switzerland on Friday.
Tosun received the first red card of his career after an animated confrontation with a section of fans behind the dugout.
Lucescu defended the striker who did not travel with the squad to Moscow, Russia on Monday.
The Turkey boss stated that he understood why Tosun did what he did and underlined that he does not expect him to repeat what he did.
See More: Exclusive – Cenk Tosun On Eating Scouse, Everton Fans & The Liverpool Derby
"It is difficult to pass judgment on Cenk Tosun," Lucescu said.
"It is a delicate matter but what I will say is how impressed I was with his response.
"He requested a meeting with me afterward and said how sorry he way.
"I am not going to comment on what he did, let's stop trying to demonise him, he thought his father was being attacked. 
"This was a one-off incident, I don't think we'll see Cenk do that again."
Turkish-Football reported that Tosun's was reacting to fans who attacked his father.
A group of fans threw flares and a smoke bomb at his father and uncle.
The Everton star had to be held back by his teammates and staff after he saw his father surrounded by fans in the stands.
Security were sent over to diffuse the altercation his dad was involved in.
Tosun did manage to score in the 2-2 draw and also bagged a brace in the 2-1 victory over Iran just days before.
Turkey take on Russia next on Tuesday, in Moscow.