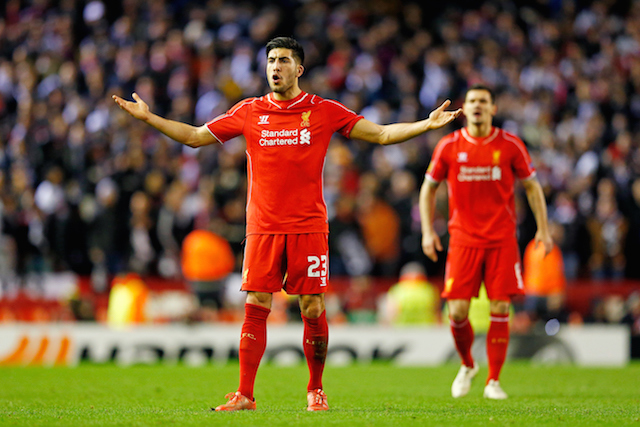 Liverpool fans react to Emre Can display against Man City on social media
Liverpool held Manchester City to a 1-1 draw at the Etihad stadium in the Premier League on Sunday 19 March.
The Reds managed to hold onto their unbeaten record against teams in the current top six in the process.
See More: For the latest Emre Can news and everything else you ever wanted to know about the Liverpool star
Germany international of Turkish origin Emre Can started and put on an impressive display which did not go unnoticed on Twitter.
Can provided the pass which resulted in the penalty which resulted in the Reds only position in the game.
We took a look at how Liverpool fans reacted to Can's performance on social media.
Can should really have been given an assist for his role in the Reds goal. He pulled off a sublime pass which ended up winning the penalty.
Emre Can with the pass though!

— Viktor Fagerström (@ViktorFagerLFC) March 19, 2017
Great ball by Emre Can into Firmino for the Penalty decision by the way.

— Spion Kop (@TheKopHQ) March 19, 2017
Emre Can, I respect your vision for that ball to Bobby for the pen.

— N10 (@LosoLFC) March 19, 2017
That ball for Emre Can though?

Anyone want to talk about that?

— – (@AnfieldRd96) March 19, 2017
https://twitter.com/D10_LFC/status/843518721050271745
Emre Can has been excellent from a defensive point of view, added with the fantastic pass which produced the penalty.

— Rougéz (@dboetan7i) March 19, 2017
Another controversial point was whether Yaya Toure should have been sent off for this challenge on Can
https://twitter.com/foulthrownet/status/843515117853655041
Should Can have won Man of the Match?
Emre Can man of the match for me.

Showing his true potential last two games. #LFC

— ?????????? (@LFCGrumpyfrog) March 19, 2017
Emre Can has been outstanding.

— Joel Rabinowitz (@joel_archie) March 19, 2017
Is Can not getting the credit he deserves?
https://twitter.com/ErenvanBasten/status/843518923417026568
After a rough patch the German international of Turkish origin appears to be winning over hearts and minds
https://twitter.com/AnfieldRd96/status/843524741327654913
I've defended Emre Can every single time. So glad he's putting in these type of solid performances. He's a baller, & it'll come through.

— – (@AnfieldRd96) March 19, 2017
Emre Can putting in one of most accomplished performances in a Liverpool shirt to date.

— Levi (@TheAlonsoRole) March 19, 2017
Liverpool have not lost against a side in the current top six. Does Can also raise his game for the big games?
Emre Can against the top 6 vs Emre Can against everyone else pic.twitter.com/EeLqJT61w8

— Andy Castell (@AJ3) March 19, 2017
Or is he just trying harder to get his hands on a lucrative contract extension
Emre Can very much playing like a man mid-contract negotiations.

— Off The Ball (@offtheball) March 19, 2017