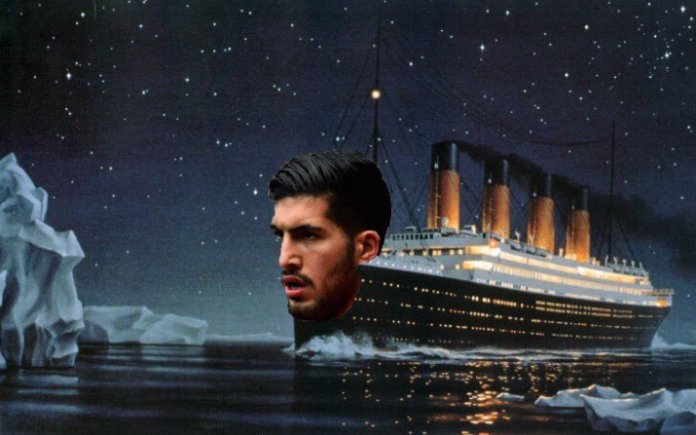 The Reds recorded their first league win of 2017 after defeating Spurs 2-0 at Anfield but Emre Can could not avoid being roasted by Liverpool fans on social media – meanwhile Wijnaldum was widely praised.
Wijnaldum assisted Sadio Mane with the opening goal on 16 minutes and the Senegal international bagged a brace just two minutes later.
Despite not starting and only playing 13 minutes as a second half substitute for Philippe Coutinho, Can was slammed by Reds fans on social media who feel he should fall down the pecking order behind Wijnaldum.
The Germany international of Turkish origin now has three goals and two assists in all competitions for the Reds this season.
We took a look at how Liverpool fans reacted to Emre Can and Wijnaldum on social media.
He used to be known as the tank… now he is being called the Titanic!
Emre Can trying to turn pic.twitter.com/ra8ZXe8RO3

— conor (@SenorNewman) February 11, 2017
Can is not exactly Mr Popular right now among the Reds faithful…
Emre Can having his best game of 2017 by simply not participating.

— Paul (@Kolology) February 11, 2017
The Can – Wijnaldum debate over who should be first-choice in midfield rages on…
I don't want to see Emre Can near the starting line up unless wijnaldum dies

— Rags (@Raghav23_) February 11, 2017
Just a few months back Can could do no wrong but it now seems that Liverpool fans have a new favourite midfielder in Wijnaldum.
Gini Wijnaldum has put in performances this season that Emre Can dreams of

— Only LFC (@Only__LFC) February 12, 2017
Another tweeter underlining why Wijnaldum should be ahead of Can in the pecking order.
Tonight was why it should always be Gini Wijnaldum over Emre Can 👍

— Spion Klopp (@TheKopHQ) February 11, 2017
It was genuinely difficult to find anyone who thought Can should start ahead of Wijnaldum..
After watching this game I am 100% fully convinced Wijnaldum is an underrated player and now fully deserves to start over Emre Can

— Samue (@MatipFirstTouch) February 11, 2017
Can has been described as having the mobility of the Titanic and the pressing skills of a headless chicken…
Wijnaldum is far superior to Emre Can. Dosen't press like a headless chicken and does actually have awareness.

— ㅤ (@DerFussbalI) February 11, 2017
Can't lose the midfield battle if Emre Can isn't playing pic.twitter.com/9jG0C0guiA

— . (@Origi_esque) February 11, 2017
There do appear to be at least a few Can loyalists left. The Germany international of Turkish origin may not be in the best form but does he deserve the hate he has been getting?
The hate Emre Can gets is disgusting.

— Mané (@AnfieldRd96) February 11, 2017