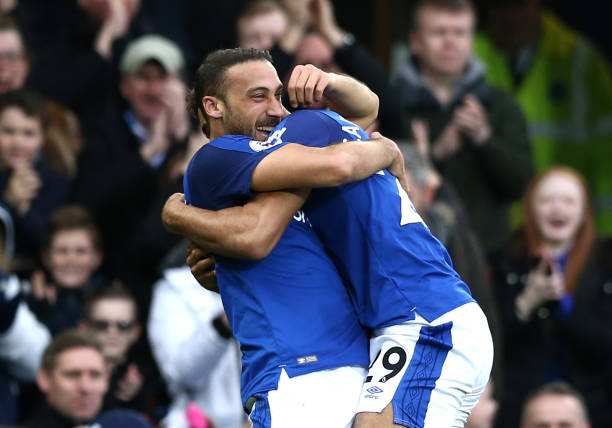 Everton beat Crystal Palace 3-0 at Goodison Park to win three successive Premier League games for the first time since January 2017.
Cenk Tosun started his third game in a row on the bench but managed to come off the bench to score the Toffees second goal to wrap up all three points.
Tosun, Ademola Lookman and Calvert-Lewin were brought on in the second-half. Lookman setup Lewin with the opening goal and Tosun scored just moments later.
Tosun became a father for the first time earlier in the week, his partner Ece gave birth to Arden Cenk Tosun.
The goal was his second in eight games this season, he also has two assists to his name.
We took a look at how Everton fans reacted to Tosun's goal on social media after the game.
See More: Belgium Scandal Agent Mogi Bayat Was Involved In Everton Ace Moving To Galatasaray
In case you missed the goal.

I think it is was pretty clear that many Everton fans were more than pleased with Tosun getting his name on the scoresheet.
The striker has come under criticism over recent weeks so the goal will come as a relief.
CENK TOSUN YOU BEAUTY

— ??- ? Blue ?- ?? (@BlueRepublik) October 21, 2018
@CenkTosun_ well done with your goal cenk keep it up, plenty more of that please ??

— Andrew banks (@Andrewb0001878) October 21, 2018
Everton are boss and there's nothing anyone can say to change it, last 10 years we'd have lost that game today when it got frustrating, took our time, brought on the kid @Alookman_ ping 1-0

Then on comes my G @CenkTosun_

Game over ✊

— Shoey Mc (@ShoeyEFC1234) October 21, 2018
@CenkTosun_ is a blue ?. Great to see him back scoring! ?? pic.twitter.com/fcISds7lmi

— Dan Griffiths (@TheDanGriff) October 21, 2018
All the time in the world for @CenkTosun_ what a man???

— Connor McIlroy (@Connor_McIlroy8) October 21, 2018
@CenkTosun_ I did tell Marco to put you on earlier you heard me ??‍♀️? well done Cenk xx

— Laura Jane (@lauraevison) October 21, 2018
Cenk Tosun's goal was hardcore Gwladys Street

Absolute limbs

— Markthablue38 (@markthablue38) October 21, 2018
Made up for @CenkTosun_ his hard work is paying off #Everton #tosun #topscorer?

— Martyn Leach (@martypl76) October 21, 2018
The touch to bring the ball down for his goal was actually boss

— Dan Williams (@dan_williams13) October 21, 2018
The king is back!

— Mücahit UĞURLU (@mucahittugurlu) October 21, 2018
Now that's a stat!
Since joining on the 5th January Cenk Tosun (7) has scored more goals in the Premier League than any other Everton player.

What scoring crisis? pic.twitter.com/7sFGGQgPSZ

— Squawka Football (@Squawka) October 21, 2018
A Cenk worthy kebab.
A @CenkTosun_ celebratory chicken kebab, with hot chilli sauce. Up the Toffees pic.twitter.com/joifnMJIdj

— Tony … really! (@ASViking) October 21, 2018