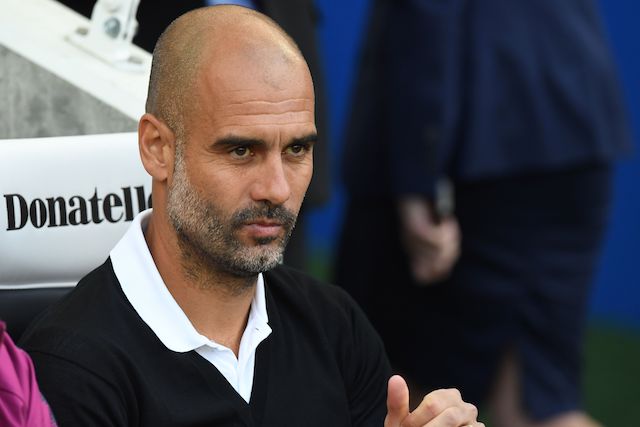 Everton striker Cenk Tosun has turned out to be a neighbor of Manchester City manager Pep Guardiola.
In fact apparently, they live in the same apartment block.
We are not entirely sure how they ended up side by side considering they are at different clubs in different cities but Manchester and Liverpool are pretty close so I guess it makes sense.
Anyway, it turns out Guardiola is a workaholic who leaves home at around 6am in the morning and doesn't return until late at night.
See More: Turks Abroad: Everton Find Their Away Elixir In Cenk, Enes Unal Rocks Atletico Madrid
"Pep is my neighbor we live in the same apartment but I hardly ever see him," Tosun told the Fanatik newspaper.
"He is out at 6am and does not return until late at night. 
"The man is a workaholic."
Tosun joked: "He may keep a close eye on me before the Manchester City game, he has a real attention to detail."
The striker also revealed that Ilkay Gundogan and Leroy Sane also live in the same block.
"Ilkay and Leroy also live in the same block, I am close friends with Ilkay we always meet up," he added.
"I like it here but I am looking for a house with my wide."
Gundogan and Tosun were both born in Germany and both are ethnic Turks.
Tosun represents Turkey at international level while Gundogan opted for Germany, both had the option to represent either country.
The star striker will take on Guardiola in the Premier League on 31 March at Goodison Park.
Tosun has four goals in his last three games but faces a big test next against the Citizens. It will be interesting to see how the Turkey international does against the league leaders.
The Toffees face a tough run of games with City and the Merseyside derby against cross-city rivals Liverpool soon after.
The 26-year-old has scored against Burnley so he has scored against a team in the top half of the table but has yet to find the back of the net against top-four opposition – which is hardly a surprise considering he's only played Tottenham and that was on his debut without any time to settle in.