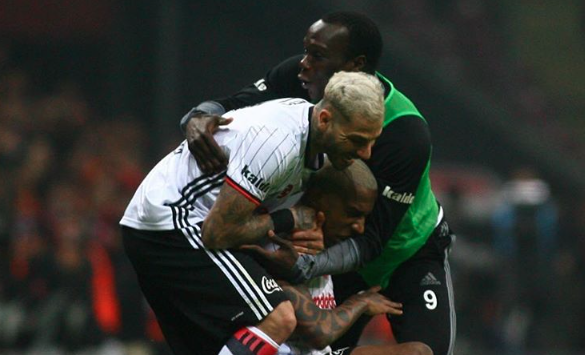 Man United news: FA could block £22m transfer target joining this summer
Manchester United have been closely linked with Anderson Talisca for months.
The Besiktas star finally opened up about reports and confirmed interest from Jose Mourinho in an interview with Globoesporte.
Talisca responded to a question on Manchester United wanting him by saying: "That is a question I can not give an answer to just yet.
"I cannot deny there is interest but what happens next depends on Benfica and my representatives. 
"There will be news on this soon. 
"Look every player dreams of playing under him [Jose Mourinho].
"Mourinho wants me, he has wanted me for a long time and I am an admirer of his work.
"I had a good season so we will see what happens." 
Talisca did agree to a two-year loan with Besiktas but he does have a £22 million [€25m] release clause.
There is however, one glaring problem.
Talisca would currently be unable to play in the Premier League as the Home Office would not be able to provide a work permit under the current conditions.
Permit system for non-EU players
According to the FA: Required % of international matches over previous 24 months is determined by the player's National Association's official FIFA ranking:
FIFA 1-10: 30% and above
FIFA 11-20: 45% and above
FIFA 21-30: 60% and above
FIFA 31-50: 75% and above
Reference period reduced to 12 months for those players aged 21 or under at time of application
Brazil are in the FIFA top 10 but Talisca has not played 30 percent of games for his national team over the past 24 months.
The only way Talisca would be granted a work permit is if the FA make an exception on the basis that he is a special talent.
"There will still be an 'exceptions panel' but it will no longer be reliant solely on subjective supporting evidence, but will make the decisions based on stricter assessment of relevant objective criteria," said FA chairman Greg Dyke.
"The new system will make it far easier for us to identify and attract top quality players that truly are at the elite level, and it will make it far tougher for those who don't meet the quality standard to get to play in Britain.
"It is a significant step forward."
Besiktas are desperate to keep hold of Talisca, the Brazilian attacking midfielder has 16 goals and four assists this season.
The Black Eagles would not be able to match United's offer if they activate his release clause due to financial constraints.
The work permit issue could however, derail any future deal to the Premier League as it did last summer.
Portuguese sports newspaper O Jogo claimed the Reds had agreed a £21 million deal for the Brazilian international.
Per the source, the transfer was on hold due to visa requirements.