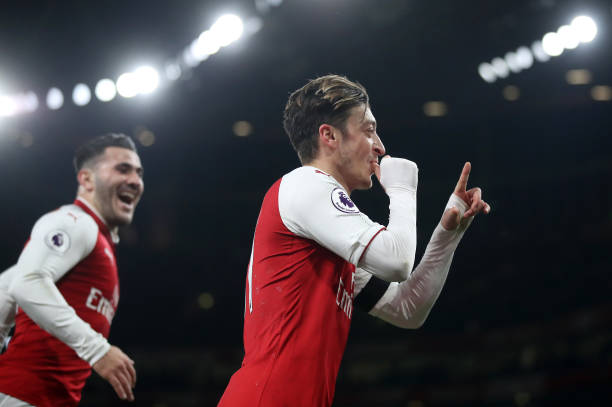 "Manchester City could find £25m in the car seat" – Arsenal legend slams club for "disgusting business"
Former Arsenal star striker Ian Wright has slammed his former club for their handling of Mesut Ozil and Alexis Sanchez's contract situations.
The duo have entered the final six months of their contract's with the Gunners and could end up leaving the club for free next summer.
Sanchez was closely linked with a move to Manchester City over the summer while Ozil has recently linked with a transfer to rivals Manchester United.
Wright branded Arsenal's contract dealings as "disgusting business" while on SkySport's The Debate last n night.
Both Ozil and Sanchez will be free to hold talks with foreign clubs from January 1 onwards.
See More: 'Arsenal Have Made A Big Mistake' – Gunners Legend Claims Man United Target Mesut Ozil Will Stay In January But Leave In The Summer
"It is terrible business for Arsenal, for a club that is accused of being a business to allow two players like that to run their contracts down," Wright said on Sky Sports' The Debate.
"Sanchez on top form is easily a £100m player. Ozil on top form is worth £70m to £80m. Arsenal are letting that go. It is disgusting business on the management side for Arsenal.
"How are you going to sell players like that in January for £25m? It is like people are laughing at you.
"Manchester City could find £25m in the car seat or something. And you're going to get Sanchez for that kind of money?
"For it to get to this point where they can be offered that kind of money – and why would you offer £60m when they are free in a few months?
"With the way that Sanchez is playing and having seen him be substituted in recent times, something that never used to happen, I would probably take the hit on him now because it looks like the towel has gone in and his heart isn't in it now."
Ozil and Sanchez were rested for Arsenal's 1-0 win over West Ham United in the League Cup on Tuesday. The duo are expected to return to Arsene Wenger's starting eleven on Friday when the Gunners host Liverpool at the Emirates stadium.