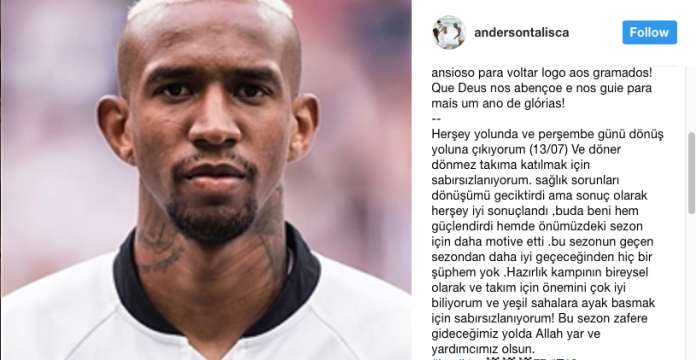 Man United suffer transfer blow after £22m Brazilian target confirms which club he will join this summer
Brazilian attacking midfielder Anderson Talisca has been closely linked with a move to Manchester United this summer.
Talisca was responsible for most of the rumours after his comments made in the Brazilian press.
"That is a question I can not give an answer to just yet," Talisca told Globoesporte when asked about United interest.
"I cannot deny there is interest but what happens next depends on Benfica and my representatives. 
"Look every player dreams of playing under him [Jose Mourinho]. Mourinho wants me, he has wanted me for a long time and I am an admirer of his work." 
Mourinho did not deny the claims but it is worth underlining that he has the same agent – Jorge Mendes – as Talisca.
The former Bahia man was accused of trying to use United interest to increase his salary next season but it appears his spat with the Besiktas board has been resolved.
The Benfica attacking midfielder has a £22 million release clause option.
The powerful midfielder spent last season on loan at Besiktas playing a key role in winning the league title.
Talisca has finally confirmed which club he will be playing for next season.
The 23-year-old shared a photograph on Instagram alongside a lengthy message in Portuguese and Turkish.
Talisca revealed that he will be joining Besiktas on another one-year loan.
The statement read: "Everything is going to plan and I will return on the 13th. I can't wait to be back. The reason my return was delayed was for health reasons but it all worked out for the best. I am going to be even better this season and I am even more motivated."