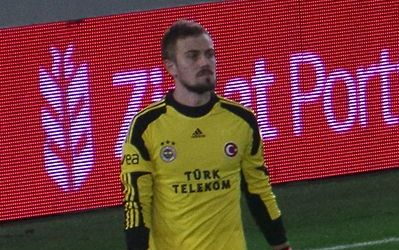 Mert Günok better than De Gea says Hayrettin Demirbaş [divider]
Former Galatasaray goalkeeper Hayrettin Demirbaş revealed that he believes Fenerbahçe keeper Mert Günok is as good as Manchester United's David De Gea.
"If I was in charge of transfers at Galatasaray I would buy Mert," Günok said.
"In my opinion he is much better than Muslera, if he plays everyone will realise this, his physique is excellent. 
"He is a keeper in the mould of Van der Sar, actually I would say he is even better than current Manchester United keeper David De Gea.
"Technically he is first class, if Muslera leaves Mert should definitely be first on the list to replace him."
Demirbaş was keeper at Galatasaray for 10 years making 149 appearances for the Lions.
Günok is currently second choice keeper at Fenerbahçe behind Turkish international Volkan Demirel.
The 25-year-old keeper rose through the ranks of the Fenerbahçe youth system before being promoted to the senior side in 2010-11.