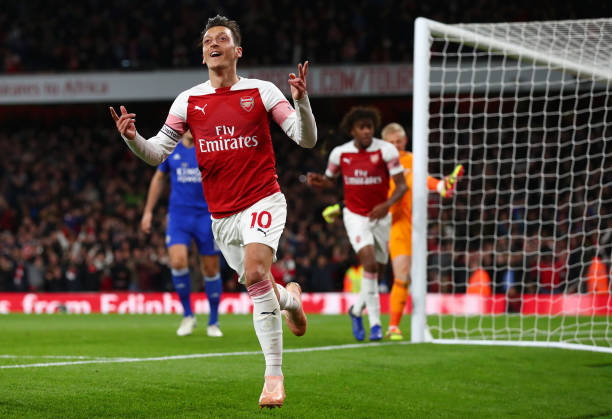 Arsenal star Mesut Ozil will not be leaving the club over the January transfer window despite reports continuing to claim otherwise.
Ozil has been closely linked with a six-month loan move to Turkey with Fenerbahce being suggested as a potential destination. Meanwhile Basaksehir president Goksel Gumusdag recently confirmed interest in the playmaker.
"Mesut Ozil is a precious player," Gumusdag said, as quoted by Bild.
"I hope one day our paths will cross at Basaksehir.
"If he wants to be with us as well, we would do anything to get him."
The 30-year-old's agent Dr Erkut Sogut meanwhile has made it clear Ozil will not only stay on at the Emirates. He also underlined that a transfer extension could be on the cards.
"I would prefer not to speak publicly about Mesut's situation, but given the recent speculation linking him with a move away from Arsenal, I do feel it is important to provide some clarity so we can end this and focus on football," he told Goal.
See More: Turkish Super Lig review: Istanbul Trio Set For Busy Transfer Market Over January
"Mesut signed a new contract last January because he saw his future at Arsenal and nothing has changed in his mind. He wants to stay for the duration of that contract and maybe even longer.
"Mesut is 100 per cent committed to Arsenal Football Club. He loves the club, shares its values and does not want to be anywhere else.
"He is proud to wear the shirt and honoured to represent Arsenal on and off the pitch. He takes his responsibilities – including being selected as one of the captains this season – very seriously and has a great relationship with his team-mates, the staff and fans."
Ozil has struggled for playing time recently which has resulted in rumours that the reason for his lack of game time is due to a rift with head coach Unai Emery.
Sogut pointed out that the actual reason for his client not playing regularly has been due to injuries.
"He has suffered from injuries and illness, and is working hard to adapt to the different system employed by head coach Unai Emery. This may take time, but Mesut will give everything he has to help make it work and bring success to Arsenal," he added.
Ozil will stay at Arsenal over January but the Evening Standard report that his long-term future will be decided over the summer.