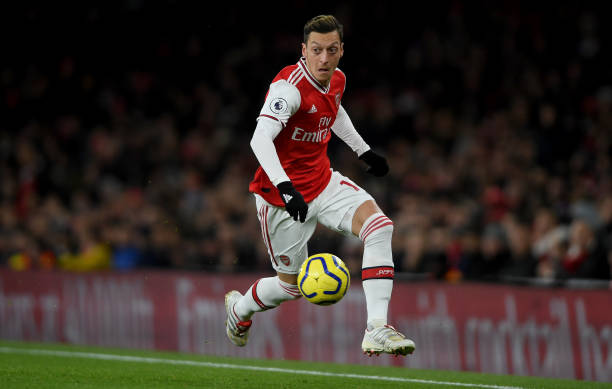 Mesut Ozil's agent Dr Erkut Sogut has opened up about the situation of his client at Arsenal.
Ozil was omitted from the Arsenal Premier League and Europa League squads at the start of the season despite having 12 months left on his contract and being the highest-paid player in the team earning £350,000-a-week.
READ: Fenerbahce president responds to Arsenal star Mesut Ozil being '90 per cent certain' to join Turkish giants
Sogut revealed that the Arsenal hierarchy did not even inform him that Ozil would be left out of the squad.
"It's a shame that Mesut isn't playing," Sogut told Tuttomercatoweb.
"Of course, everyone focuses on his salary and I also understand why. But from a personal perspective, I say it's a waste considering his talent and creativity. I talked to him. 'Arsenal a few days before the summer transfer campaign and I told them about Mesut's feelings, his desire to stay and how much he loved the club.
"And they never told me he wouldn't be on the list.
"Exactly. They didn't tell me. It was a surprise to all of us, something that clearly hit him hard."
Sogut also explained that he cannot understand the current situation and believes Arsenal would have benefitted from Ozil's creativity over the first half of the season.
He also raised a question mark over the official line that Ozil was dropped for 'football reasons' but refused to go into detail over it.
"It is not an easy situation. He loves the club and the fans deeply and is deeply sorry that he has not been given a chance, honestly, this season. Mesut was the player who reached 50 Premier games with assists. faster than anyone else, in 141 appearances and Arsenal would need exactly this kind of creativity. They say he was sidelined for 'football reasons', but that's not something I can comment on. I think the fans want him back on the pitch, at the last match they also chanted his name," he added.
Sogut underlined that Ozil is still training and that while playing in Italy may be an option in the future he still wants to break into the Arsenal team and stay at the club.
"He is training harder than ever. At home he has a gym, in the garden and in the garage. So in addition to the work he does with the club, he also trains at home, alone. This shows his professionalism, all his seriousness," he said.
"Maybe one day, why not? Serie A is a great league and I'm sure these teams could benefit from Mesut Ozil's skills. a pure number 10, many Italian clubs play with a player in that role. However, I repeat: he is totally concentrating on his training with the club and at home, on charity and his business off the pitch. He is not thinking of other clubs except to the one with which he is now under contract."
Ozil could still play for Arsenal this season if manager Mikel Arteta registers him for the squad in January.
The playmaker of Turkish origin is still under contract until the end of the season.
Arsenal have got off to a poor start this season and are currently 15th in the table on just 13 points after 12 games.