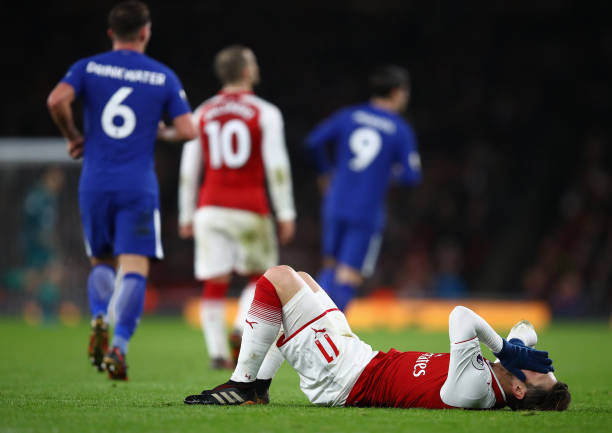 Arsenal star midfielder Alex Iwobi has heaped praise on his teammate Mesut Ozil following Monday night's win over Leicester City.
The Gunners moved within two points of leaders Man City with a win over Leicester City at the Emirates.
Ozil was the star of the show after playing a key role in all three goals. The 29-year-old ended the night with a goal and assist.
Iwobi has stated that Ozil helped him to become a key member of the Arsenal side.
The Nigeria international also revealed that he was unsurprised by Ozil's match-winning performance on against Leicester.
"I have been training with him since I was 17 and I have seen what he can do," Iwobi told SkySports.
"The quality he has is not just in training. He is a world-class player and he proved that again last night."
Iwobi also revealed that Ozil makes sure to help him during training and that he is a leader within the dressing room.
"He gives me advice in a different way.
"He jokes around but always tells me I can do more – even last night, he was saying I can do more, he is always one of those guys.
"But he is always happy, always telling me and giving me the confidence to express myself, so it helps me.
"Mesut will come across as laid back but he is helping everyone in a different way and he helps me a lot."
See More: Arsenal Star Named In Robbie Savage's Premier League Team Of The Week
The Gunners return to action on Thursday night when they take on Sporting Lisbon in the Europa League.
Arsenal's next Premier League clash is against a Crystal Palace this weekend at Selhurst Park.