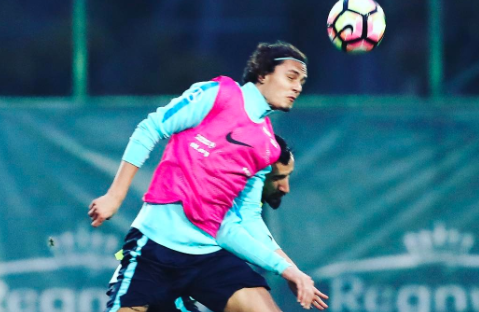 'Miles better then Kelechi' – Man City fans react to Enes Unal scoring 19th goal for FC Twente
Manchester City striker Enes Unal scored his 19th goal for on loan outfit FC Twente.
Unal scored in the 3-5 defeat against Eredivisie outfit FC Groningen.
The 20-year-old is the top scoring Turkish international player in Eredivisie history having needed 18 times in the league.
Unal probably has caught the attention of City boss Pep Guardiola after scoring 19 goals and four assists in all competitions.
He certainly has caught the attention of City fans.
We took a look at how City fans reacted to his display on social media.
Enes Unal
Age: 20 ?
Goals: 19 ⚽️
Assists: 4 ?
Pep Guardiola are you watching? #MCFC #FCTwente pic.twitter.com/LuWjBEi0tA

— Turkish Football (@Turkish_Futbol1) May 14, 2017
If he is eligible to play for City next season should he be moved ahead Kelechi in the pecking order?
@City_Watch Get him back in the squad he's a gunman
Miles better then kelechi

— ashley mcduff (@Ashleymcduff1) May 14, 2017
Unal would probably play Premier League season if he had a work permit.
There is of course the chance that the Home Office grant him an exemption on the basis of being a talent capable of contributing to Premier League football.
@TheBlandShaun @ManCityArmy1894 Enes Unal lads, Enes Unal. Maybe not next season, but the one after. He's gonna score a shed load in his career.

— Steven (@EsteemedKompany) May 14, 2017
@Turkish_Futbol1 @ManCity @FA if this is not a special case to grant a work permit i don't know what is . . . .

— derVizle (@derVizle) May 14, 2017
@EsteemedKompany @TheBlandShaun They got work permit issues with him haven't they ATM heard and seen some good things about him tad unsure on him yet though

— MCFC 1894 (@ManCityArmy1894) May 14, 2017
This is how he measures up against the other Eredivisie top scorers.
Eredivisie 2016-17 top scorers:

21: Nicolai Jørgensen
20: Ricky van Wolfswinkel
19: Samuel Armenteros
19: Reza Ghoochannejhad
18: Enes Ünal

— City Watch (@City_Watch) May 14, 2017
@City_Watch The four players ahead of him in the Eredivisie scoring charts are aged 26, 28, 26 and 29.

— Jon Peck (@abellwillring) May 14, 2017
Fans were full of praise yet again.
Enes Unal scored again. Wow the boy is so lit

— Odinga (@Kojo_Etihad) May 14, 2017
@MCFClnfo what a player

— leroyinsane (@leroyinsane19) May 14, 2017
cant wait to have @enesunal16 back for pre-season with @mcfc along side jesus,sterling,sane,KDB i can go for hours we have countless talent

— JiGGy DOP€ NIGGa (@im_DopeNigga) May 14, 2017
@MCFClnfo The best

— turgut pulat (@turgutpulat61) May 14, 2017
Is too much being made of his goal record? it is the Eredivisie after all but then against Luis Suarez, Romario and Brazilian Ronaldo made a name for himself in the same league.
@City_Watch 18 goals doesnt mean anything if it wasn't at la liga or Premeir League Guidetti scored 20 Goals in 23 Apps for Feyenoord

— Mohamed Khalifa (@mkraba3i) May 14, 2017
Well that settles that.
@mkraba3i @City_Watch Guidetti would have been great if he didn't get sick… That changed everything for him…

— Ali Rahimpour (@alirahimpour89) May 14, 2017