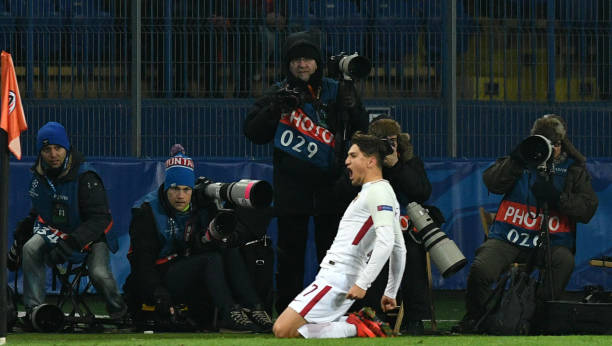 Roma sporting director Monchi has revealed just how difficult it was to cope with losing Mohamed Salah to Liverpool.
The Italian giants also lost star names such as Paredes, Ruediger and Mario Rui.
"Last year's team came second but Salah, Paredes, Ruediger and Mario Rui left," Monchi said.
"This complicated matters, we tried to find alternatives to these players and in general I'm satisfied but I also say that there is no perfect planning.
"You can definitely improve. We are living the present, but at the same time we are building the future."
Monchi confirmed that Under was brought in as Salah's replacement.
The 20-year-old told Turkish-Football shortly after joining Roma that he was signed to fill the void left by Salah who joined Liverpool.
Turkish-Football quoted the winger as saying: "They signed me as Salah's replacement so I am here to play. I could not believe the transfer happened so quickly.
"We were in other talks with Man City, then I got a call from my agent who said 'the Roma deal is done', I couldn't sleep that night."
Under struggled initially and there were even rumors that he would end up being loaned out.
"It was really tough. I really felt alone for the first time, really alone. It was the first time I experienced real loneliness," Under told me in an interview for the Guardian last November.
The Turkey international has been on fire since February scoring six goals and providing one assist.
The rising star has been nicknamed the 'Nuovo Salah' – New Salah – in Italy but Monchi believes we have not even seen the best from him yet.
The sporting director also known as the wizard said that Under has a lot more to offer.
"Of all the players who arrived this year the final decision was mine, I arrived in Rome at the end of April last year, everything that was done afterward was decided by my working group.
"We brought in players for the positions of the players that left.
"Cengiz Under was one of these players on the wing, we knew that there was this young guy coming out of Turkey who would have problems adapting to the language and other things that would take time, but we also knew he had quality.
"After the first few months, when the coach has managed very well his entry into the team giving him the necessary minutes, starting from January he had a greater continuity and the results have arrived.
"In recent months he has been able to make important goals. We are happy, but I think there is ample room for growth, it is still a 20-year-old boy who has just arrived in Italian football.
"We are convinced of its technical and physical qualities. He can be an important player for the future of Rome ."
Under is expected to start for Roma in the Champions League Last 16 second-leg tie at home today.