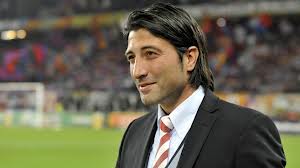 Murat Yakın wants Chelsea winger Salah [divider]
Spartak Moscow boss Murat Yakin has admitted he wants to sign Chelsea winger Mohamed Salah.
"I want to sign both Salah and Fabian Frei. I know both players well," Yakın is quoted as saying by the Daily Star.
"I know the economic situation in Russia is not the best, but the club can afford both players' wages.
"The club president promised a surprise in the upcoming transfer market. I spoke with him about both Salah and Frei and I hope it will happen, that'd be my Christmas present.
"I'll do whatever it takes to get Salah in the team, even if I have to beg for it."
Süper Lig outfit Beşiktaş have also been keeping close tabs on Salah.
The 39-year-old was appointed manager of Basel in 2012 and became the first manager of Turkish origin to win a top-tier league title outside of Turkey.
Yakın was born in Basel, Switzerland to Turkish parents and represented Switzerland at international level.
The Switzerland born coach won back-to-back league titles in his two years in charge of Basel as well as overseeing strong Champions League campaigns.