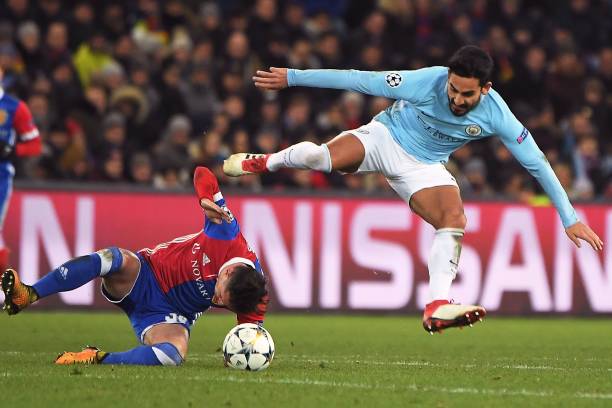 Manchester City ended up beating rivals Manchester United at the Etihad in the Premier League on Sunday.
City ended up recording a 3-1 victory in the Manchester derby to move back into first-place in the league table.
Ilkay Gundogan recently recovered from injury and made his return in the Champions League last week providing an assist in the 6-0 victory over Shakhtar Donetsk.
Gundogan went one better in the derby, coming off the bench to score his sides third and final goal.
There were 44 passes before Gundogan tucked home the third and final goal for City.
44 – There were 44 passes in the build-up for Ilkay Gündogan's goal v Manchester United – the most before a goal in the Premier League since Juan Mata scored for Man Utd against Southampton in September 2015 (45). Fluid. #MCIMUN pic.twitter.com/cE4h6CmmZ0

— OptaJoe (@OptaJoe) November 11, 2018
See More: Turks Abroad: Captain Ozil Struggles For Arsenal, Yokuslu Almost Shocks Real Madrid, Gundogan Strikes Against Man United In Manchester Derby
We took a look at how City fans reacted to Gundogan's display on social media.
City fans were more than pleased with Gundogan's impact after being brought on for Sergio Aguero in the second half.
Ilkay Gundogan was immense. Great change by Pep which really shored up the middle of the pitch. Kept the ball beautifully. WHAT A RESULT. #MindTheGap

— David Hartley (@DavidHartley21) November 11, 2018
Gundogan changed the game when he came on. He was world class. He loves a goal in big games.

— Guardiolista (@Guardiolista01) November 11, 2018
He was exactly what we need to keep possession of the ball. Tactical masterclass by Pep once again

— Real Talk Manchester City ⚽️ (@RealTalkMCFC) November 11, 2018
The amount of people that overlook him is incredible. His talent is disregarded because of his game time, yet he proves his class every time he's on the pitch. One of the most underrated midfielders in the world.

— MCFC (@SlickSergio) November 11, 2018
Man City played 44 passes for Ilkay Gundogan's goal, keeping the ball for 2:18… pic.twitter.com/RdnmpJja0d

— Football Mumble (@football_mumble) November 11, 2018
44 City passes without United touching the ball before Gundogan scored I'm hearing? pic.twitter.com/fd1UwvSOgB

— M D (@couldbemoh) November 11, 2018
Gundogan crazy first touch. Imagine Lukaku trying to control that

— Eagles (4-4) (@FlacoRMCF) November 11, 2018
Gundogan was absolutely brilliant when he came on.

Changed the tone of the game for us.

— Luke (@Komps4) November 11, 2018
Not everybody was best pleased with his haircut!
Gundogan has the most standard Lego haircut I've ever seen

— Michael Timbs (@MichaelTimbs) November 11, 2018
United fans were not pleased with Nemanja Matic's marking just before the Gundogan goal.
Nemanja Matic…. Lindelof is literally telling him to mark Gundogan. Awful.

— Simply Utd (@SimplyUtd) November 11, 2018
Lindelof is literally pointing at Gundogan for Matic to pick him up. Abysmal from Matic. #mufc

— Samuel Luckhurst (@samuelluckhurst) November 11, 2018
By the time the cross reaches Gundogan, he's so far away from Static-Matic that he has time to bring it down and finish calmy past de Gea from 7 yards out. pic.twitter.com/EHhABOL7P7

— AMKFootball (@AMKFootball) November 11, 2018
How is this even possible? Matic even looks at Gundogan, Lindelof is pointing (and presumably telling him), there's no pressure on the ball (big trigger when defending 18-yard box). What else could he possibly be thinking about? pic.twitter.com/tbFyQps99Z

— S (@_invertedwinger) November 11, 2018