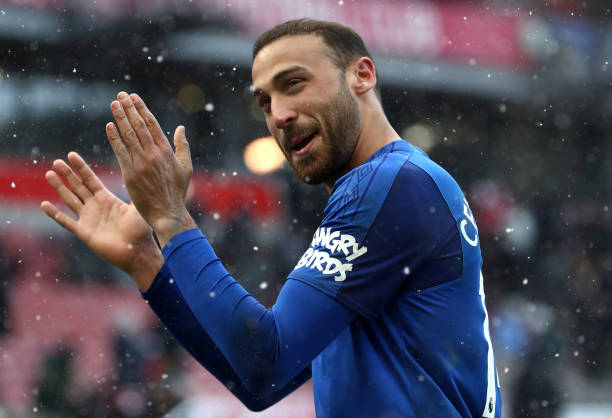 Some Everton fans are starting to become restless following Cenk Tosun's slow start to the season.
The 27-year-old, who joined Everton from Besiktas in a deal with £26 million back in January, is yet to open his goalscoring account.
Cenk has started all four games for the Toffees this season and has only managed to provide two assists.
The German-born striker also failed to score for the Turkey national team despite starting against both Russia and Sweden in the UEFA Nations League.
Since moving to Everton, Tosun has netted just five goals and two assists in 19 appearances.
Some Everton fans have taken to social media to discuss Tosun's form since joining and it's safe to say that many believe that the Turkey international needs to do more.
We need a striker who can spin the other way too. He tries hard but he's not going to get into more goalscoring positions the way we now play without pace I'm afraid.

— Lee Cowap (@Lxxx07) September 10, 2018
Mixture of lack of service, being asked to work hard, and not being in the right positions

— Ged (@Ged_Robinson) September 10, 2018
Tosun is a penalty box finisher and the style of service from others must play to that strength – players getting in behind the full backs, low crosses into the box; using him as a willing chaser down the middle doesn't work for him

— ToffeeDoug (@toffeedoug) September 10, 2018
Bit of both for me, he doesn't receive the best service but its fair to say he has to do a lot more to make sure he gets himself into goalscoring positions more often

— Steven Roche (@StevenRoche2) September 10, 2018
Sadly not what we are looking for. Won't get us 20 goals this season. Shame as he's a nice bloke and try's hard. But just missing something.

— Dan Hollingworth (@danholling) September 10, 2018
We not exactly dynamic creatively! We are still lacking a open play creator and a midfielder who can dribble through the lines. Improvement on last season but we not testing defences enough especially without Richarlison

— Andy Mc (@Amcgregor21) September 10, 2018
Not good enough…

— Phil White (@saus1878) September 10, 2018
If he is overrated, let him turn back to Besiktas 🙂

— NBO (@nbariso) September 13, 2018
Everton are back in action this weekend when they take on an out-of-form West Ham United in the Premier League. The Hammers have lost all four of their games so far this season.