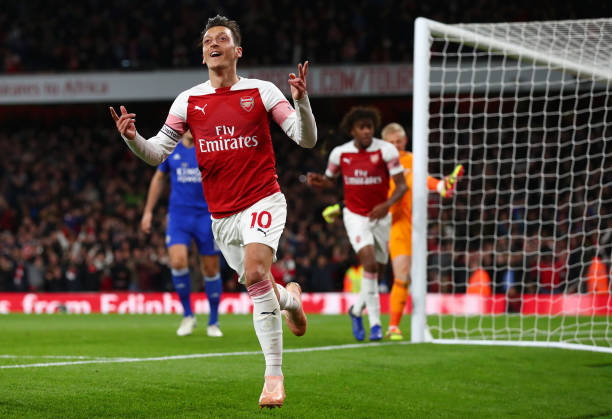 Arsenal manager Unai Emery shared a photograph from a team building exercise on his official Twitter account.
Emery was rumored to have fallen out with Mesut Ozil after failing to play him in 2019.
The Spanish manager was however, pictured next to the playmaker of Turkish origin in the photograph.
Perhaps the team building mission resulted in Ozil and Emery patching up their differences – if they existed in the first place.
We took a look at how Arsenal fans reacted to Ozil and Emery at paintball on social media.
Here were our favorites.
Whole Arsenal team went paintballing including coaching stuff. Mesut Ozil is next to Emery. He's smilling, he looks happy. That makes me smilling, I'm happy. pic.twitter.com/8rdAue5oUs

— Lacazettes (@Lacazettes) January 22, 2019
Emery asking Ozil to be next to him for tactical reasons https://t.co/aVcYNyy1fE

— LTArsenal™️ (@ltarsenal) January 22, 2019
Mesut Ozil going into battle with a Turk flag on his head ?? pic.twitter.com/Rm5wkUGfuc

— Eren Sarigul (@_ErenSarigul) January 22, 2019
Ozil when he cornered Emery during the paintballing pic.twitter.com/TTlXL6LIff

— . (@Ruud_Gullet) January 23, 2019
Ozil and Emery next to each other after paintball ?♥️ let's pray! pic.twitter.com/9IYwPfQWKu

— The ArsenalTube (@TheArsenaltube) January 22, 2019
Unai with Ozil in a different outfit. Playing him in the next game. #afc pic.twitter.com/Y9BaI9CDYU

— Özil Mas'ud (@_Ahmad_Afc_) January 22, 2019
Fallout between Emery and Ozil? WELL HOW DO YOU ESHPLAYNE THIS THEN? pic.twitter.com/AMeU6edmVz

— Michael Timbs (@MichaelTimbs) January 22, 2019
@MesutOzil1088 sits near to unai ??
We want your masterclass against manutd #COYG #YaGunnersYa pic.twitter.com/bddXRpaGAj

— Invincibles 49 (@Sagar85488016) January 22, 2019
Ozil was included in the matchday squad against Chelsea over the weekend but was an unused subsitute.
The 30-year-old has struggled with playing time in 2019 due to back and knee injuries but is match fit and is likely to make the team against Manchester United on Friday.