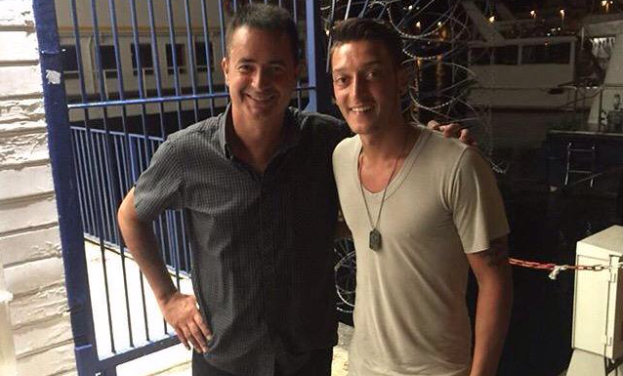 'Ozil running the show' – Arsenal fans react on social media to playmaker display in victory over Bournemouth
Arsenal returned to winning ways with a 3-0 victory over Bournemouth at the Emirates today.
The 2014 World Cup winner has come under fire from sections of the fanbase and press recently after a dip in form.
The Gunners headed into today's clash in 16th place but ended Saturday in 9th position with six points.
The playmaker of Turkish origin did not score or provide an assist but played the full 90 minutes putting on an impressive performance.
Does Ozil deserve more respect? is he a hard working player? very few players divide opinion more than the Arsenal star.
Can we just point out that was Mesut Ozil tackling and winning the ball back for Arsenal, total ly ignored by commentators as usual

— Lee Hurley (@HLeeHurley) September 9, 2017
Ozil running the show so far. Arsenal dominant – Xhaka fires over.

— Charles Watts (@charles_watts) September 9, 2017
If you could bottle this Ozil display up and bring it out every week, every top club in the world would be banging Arsenal's door down.

— Charles Watts (@charles_watts) September 9, 2017
Ozil, Rambo and Bellerin, 3 of our worst players against Liverpool, all put on a nice showing today. Happy to see them fighting. #AFC

— Southern Gunner (@SouthernGunners) September 9, 2017
This kind of thing… Ozil appears to get made a scapegoat whether he is in the wrong or not.
"What did you think of Arsenal's display today Paul Merson?"
"Well Ozil didn't score a goal and didn't even produce a single tackle"

— Europa Knights ?? (@Cechque) September 9, 2017
Bantz!
Ozil and Sanchez the next time Arsenal wins EPL title #TrapaDrive #GainWithXtianDela #NasaForChange #Stoke pic.twitter.com/2ygpmMHxA3

— Kevin K. Nash (@KevKNash) September 9, 2017
Then again did Ozil shine because he was facing Bournemouth instead of Bayern Munich? there are those that feel he does not perform in big games.
Mesut Ozil looking lively so far. Though this is the type of opposition he normally shines against. #AFCvAFCB

— Mattias Karén (@MattiasKaren) September 9, 2017
Ozil should get more than a few assists with Lacazette playing ahead of him.
Finally we have got a clinical finisher. Imagine Ozil's assist count at the end of the season with Lacazette playing in front of him.

— Bilal Amjad (@goonersheikh) September 9, 2017
What a good lad!
Proud we could make my young friend Charlie smile again today. ?? #birthdayboy #keepfighting #YaCharlieYa #AFCvFCB @Arsenal pic.twitter.com/0Sn8wUoXXe

— Mesut Özil (@MesutOzil1088) September 9, 2017