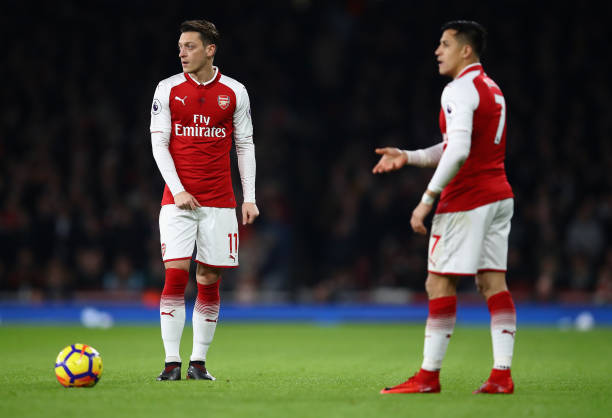 Arsenal fans are worried about Mesut Ozil's wellbeing at the north London based club following the newly appointed manager Unai Emery's debut press conference.
The Spanish tactician replaced long-serving manager Arsene Wenger this week and stated that he wants to implement an  'intense' playing style at the club.
A key part of Emery's plan at Arsenal involves changing the team's approach in games, and the Spaniard has insisted that he wants a more attacking approach.
"My idea is to be a protagonist for all of the match, we will play against all the teams with this personality," Emery stated.
Ozil has already been accused by the likes of Martin Keown of not working hard enough.
After hearing Emery mention the words 'intense' and 'pressing,' Arsenal fans took to social media to express their concern regarding Ozil.
See More: Arsenal Set To Send Officials To Turkey For £35m Defensive Target Ahead Of International Clash
Emery convincing Ozil to keep pressing past the 36th minute. pic.twitter.com/8WAua885iW

— Empy J (@CapableOfFlight) May 23, 2018
"Very intensive pressing".

*Ozil right now* pic.twitter.com/a36Jnm3sAe

— Barnesy (@Regan_Barnes) May 23, 2018
Ozil when he heard Unai Emery wants to play a pressing game pic.twitter.com/kEVBvcDzXh

— EmanDaGoon (@EmanDaGoonn) May 23, 2018
Emery tryna get Ozil to play intensive football @WolfCake95 pic.twitter.com/ygPJqyvK4l

— Lil Ziko Vert (@DrTownsendV) May 23, 2018
Finally going to see Arsenal 'pressing' ???? Ozil's In for a shock https://t.co/1pBrxcpJgy

— Griffs_Ere (@Liam_van_groff) May 23, 2018
We gonna start pressing? ?? Ozil will throw up during matches https://t.co/LYgKp0pF6U

— The Enemy (@Tshxpo) May 23, 2018
Good luck to Mesut Ozil with that pressing game ????

— Valentin Salumu (@ValentinSalumu) May 23, 2018
Exactly what I wanted to hear!! Interesting to see how Ozil adapts to this very very intense pressing!

— Simon Salter (@SaltySays) May 23, 2018
Uno ozil started shaking when he heard emery talking about intense pressing?

— Fly dem (@Jimmyconwayy19) May 23, 2018
Unai emery the way he wants football to be played I am scared for ozil

— Nyama kala (@Kala24406967) May 23, 2018
Lol pressing with lazy Ozil, I want to see that! ??

— Nkosi Msimanga (@nathiandries) May 23, 2018
"I want possession and very intensive pressing." Lmaoooo! Ozil will request a transfer in no time.

— Kay Cee (@Bambo_Kanthu) May 23, 2018
Ozil missed the final weeks of the Premier League season due to a back injury. The Germany international has however been included in Joachim Low's national team squad which will travel to Russia for the 2018 World Cup.