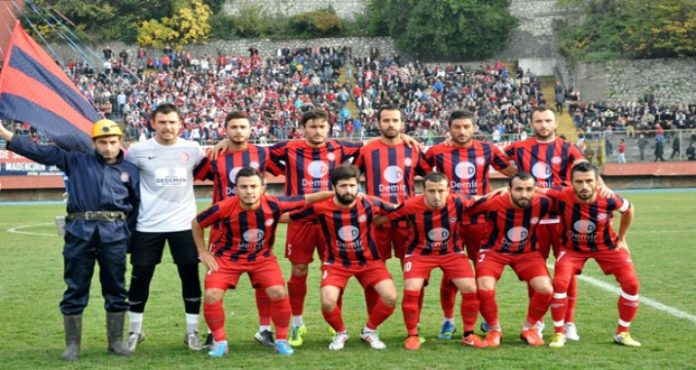 Mesut Özil's local Turkish club drawing more fans than Super Lig outfits [divider]
The province of Zonguldak is home to Arsenal star Mesut Özil's family but the area is starting to make a name for another footballing matter altogether – their fanatical fans.
Zonguldak Kömürspor in the Spor Toto 3. Lig are drawing larger crowds than many Süper Lig outfits.
The Miners have attracted an average of 9,562 fans this season to their 13,000 seater Kemal Köksal stadium.
Süper Lig clubs however, have only attracted an average of 8,500 fans this season despite having far bigger stadiums.
Lower league teams are starting to draw bigger crowds than top-tier sides as fans disenfranchised by the Passolig system and the way in which the Süper Lig is currently being run turn to other clubs.
The Spor Toto 3.Lig does not use the Passolig system and teams such as Sakaryaspor have attracted more supporters than many clubs in top-tier football.
Sakaryaspor drew 12,400 fans against Ankarademirspor, 11,000 against Silivrispor and 14,100 supporters against Ayvalıkgücü.
Supporter groups are highly critical of Passolig and say their details could be used for surveillance and also being forced to pay the bank running the e-ticketing system commission on every sale.
The cards are issued by investment bank Aktif Yatirim Bankasi AS which $1.3 billion of short-term debt as of June, which rates it six levels below investment grade according to Bloomberg.
The bank is owned by Calik Holding AS, which until December 2013 was run by Prime Minister Recep Tayyip Erdogan's son-in-law.
"It's about soccer only on the face of it," football economist Tuğrul Akşar said.
"The real aim is for the bank to reach a group of money-spending consumers who are not part of its current portfolio."