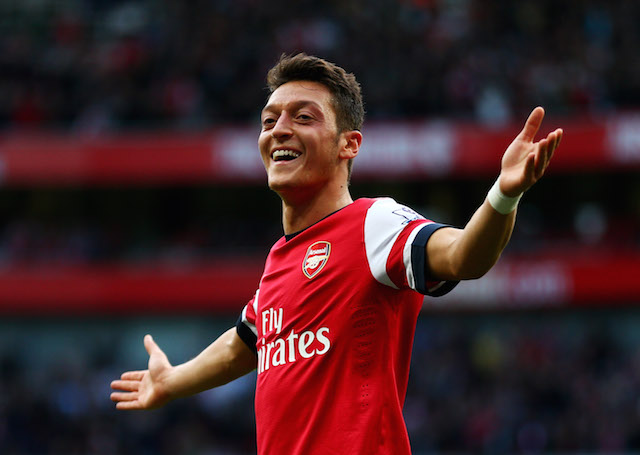 Paul Merson believes Arsenal star could be the 'difference' against Bayern Munich
Mesut Ozil has been facing a lot of stick recently after a dip in form but former Arsenal player Paul Merson believes the Gunners star could make all the difference against Bayern Munich in the Champions League on Wednesday 15 February.
There have been rumours circulating in the press that Arsenal boss Arsene Wenger may drop Ozil against Bayern but Merson feels that would be a mistake.
See More: Everything you want to know about Mesut Ozil
Ozil has come under fire after failing to score since 10 December 2016 and he has provided just one assist in the league in 2017.
Person revealed that while he feels Ozil has not been at his best the star attacking midfielder has the quality Arsenal need if they are to get a result against Bayern.
"I know he doesn't turn up too often in the big football matches but when he does he will be the difference," said Merson on the Alan Brazil Sports Breakfast on TalkSport
"If he comes off the pitch tonight and he's played well, I would be surprised if Arsenal are not still in this cup tie. I would have to play him all the time.
"The problem he has is he's not one of those 'run-arounders' who is going to go round kicking people.
"When fans go in the pub after the game, if they lose, the first thing they say is 'well, Ozil didn't fancy it.'
"He's not going to get out of trouble playing that way but he's got that class about him and, for me, he has to play every week.
"I know he doesn't turn up all the time but he's got to play."
The Germany international of Turkish origin has nine goals and eights assists in all competitions for Arsenal this season.
Ozil has excelled in the Champions League this season netting four goals and providing three assists in the Gunners six group stage games.
Arsenal have met Bayern at this stage in the Champions League on four occasions since 2005, with the Bundesliga giants progressing to the next round on the last three occasions.
Arsenal have not progressed past the Round of 16 in the Champions League since 2009-10. The North London based outfit are however, undefeated in the Champions League this season and topped their group.