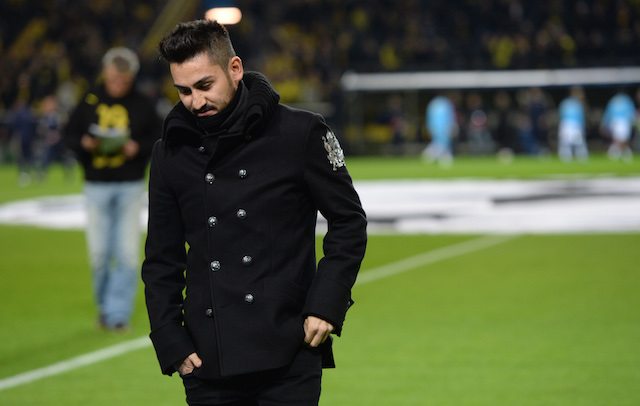 'People moaning about Gundogan and Danilo starting' – Man City fans react to midfielder's display in first Champions League start of the season
Manchester City beat Napoli 4-2 in Italy to keep their 100 percent Champions League win streak this season in tact.
Ilkay Gundogan started his first Champions League game of the season and ended up providing the assist for Otamendi's equaliser.
The assist was his first in all competitions this season since recovering from his knee injury.
We took a look at how at Man City fans reacted to Gundogan's display on social media yesterday.
Man City fans have the luxury of complaining when Gundogan starts, such is the teams depth right now.
People moaning about Gundogan and Danilo starting wtf. Have they never seen them play??

— Adam (@AB_MCFC) November 1, 2017
Where's all this fretting over Gundogan come from? I can't be the only one who still thinks he's class?

— Steven (@EsteemedKompany) November 1, 2017
The midfielder of Turkish origin provided his assist since last October for the Citizens.
İlkay Gündoğan has recorded his first assist for Man City since 29th October 2016.

Driven delivery for the equaliser. pic.twitter.com/6ONkFtQYhL

— Squawka Football (@Squawka) November 1, 2017
High praise.
The General is at it again. What a beautiful cross from Gundogan!

— David Hartley (@DavidHartley21) November 1, 2017
What a player gundogan is top top class been so unlucky with injuries but what a performance

— Sam Morsy (@sammorsy08) November 1, 2017
Gundogan looked sharp last night, definitely not 100% but he's on the right track. He's such a good option for bigger games at #8

— silky ilkay (@SilkyIlkay) November 2, 2017
That cross from Gundogan was genuinely perfect. Great height, and right in the line of three players.

— ? (@Calciodiction) November 1, 2017
For once Gundogan will play a game where the opponents won't try to murder him VAMOSSSS

— ' (@GuardiolaFlair) November 1, 2017
Gundogan's passing is better than sex pic.twitter.com/7B3t9FrPqM

— . (@kingGuardiolaa) November 1, 2017
What's he been smoking!
Sorry, was Gundogan. We have no replays here and are very high.

— Miguel Delaney (@MiguelDelaney) November 1, 2017